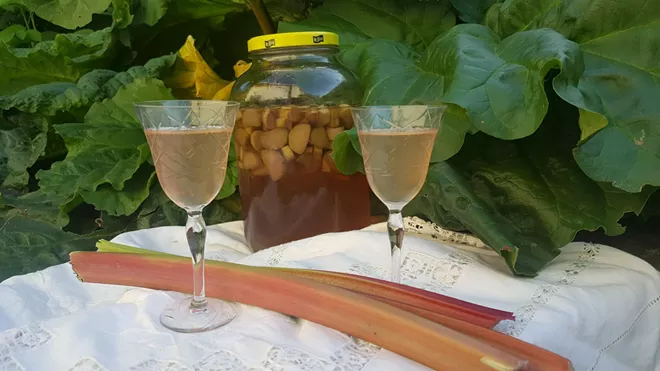 The word cordial evokes the small-town imagery of Norman Rockwell paintings, great aunts, porch swings and lace doilies.
But recently, when I pulled my first batch of cordial from our shop, moonshine seemed like a better name for the concoction that had steeped in a repurposed pickle jar.
My cordial experiment grew from my quest to find uses for my family's ever-abundant rhubarb crop. One languid weekend as I puttered in the kitchen, I stumbled on a recipe for rhubarb cordial on the internet.
Cordial, I learned, is stunningly simple. Cut up a couple pounds of rhubarb. Put the rhubarb into a clean, glass gallon jar with a screw top lid and add about a cup of sugar. Fill the jar with vodka. Stash the jar in a cool spot and wait six weeks.
The toughest part was finding the jar. I looked in canning sections at multiple stores without success. I purchased one jar, only to get home and realize the lid was wrong.
Then my husband had the idea of buying a jar that was the right size filled with something else. In less than a day, he found two choices, pickles at North 40 Outfitters for $7 or maraschino cherries at Cash & Carry for $16.
We're frugal. We chose the pickles, even though I worried the strong flavor would contaminate our cordial. We were satisfied any pickle residue was gone after washing it twice, once by hand and a second time in the dishwasher.
The next stop was a trip to the liquor store. We chose a bargain brand, Idaho Silver, figuring the rhubarb would cover up any shortcomings in the vodka's flavor. Then we followed the recipe with our garden rhubarb.
Finally we waited, without cheating, for six weeks before sampling the cordial.
We started out drinking it straight from shot glasses. The vodka had taken on a pink hue from the rhubarb, like it was supposed to. The liquor had an intense rhubarb flavor, which was especially pronounced when we compared it with straight vodka. But it was too bitter for us to enjoy the rhubarb cordial on its own as we might Kahlua.
Enter a couple of carefully chosen mixers. I put a shot of cordial in each of two old-fashioned glasses. Then, I pureed two cups of watermelon and divided it between the two glasses. I topped each glass off with sparkling lemonade.
That combination was dangerously perfect, producing one of those refreshing, not-too-sweet beverages that goes down way too easy. The watermelon and lemonade mitigated the bitterness of the cordial without obscuring the rhubarb flavor we had worked so hard to create.
What's more, the recipe and the cordial lend themselves to improvisation. Hard lemonade could be substituted for regular lemonade for a stronger cocktail.
Other melons, such as honeydew and cantaloupe, could take the place of watermelon, especially if they were about to go to waste after a summer barbecue.
The cordial recipe might be perfected, too. It would be interesting to see if using more sugar might create something that could be sipped alone.
Regardless of any adjustments I try, I am pleased.
Cordial is as easy to make as it sounds. It's a fun way to add a novel element to summer drinks.
———
Rhubarb Cordial
Around 12 cups rhubarb, roughly chopped
1 cup sugar
1 large bottle of vodka
Using a clean, one gallon glass jar with a screw top lid, add rhubarb then sugar. Fill the jar with vodka and seal. Store in a cool spot and wait four to six weeks. When ready, strain out the amount you'll be using.
Rhubarb Cordial Cocktail with Watermelon and Lemonade
Servings: 2
2 shots rhubarb cordial
2 cups watermelon
½ cup sparkling lemonade
In an old-fashioned glass (the right stemware sets the tone), add one shot of cordial to each glass. Puree the watermelon and divide between the glasses. Top off each glass with sparkling lemonade.
Hard lemonade could be substituted for a stronger cocktail. Other melons could be substituted.
Williams may be contacted at ewilliam@lmtribune.com or (208) 848-2261.