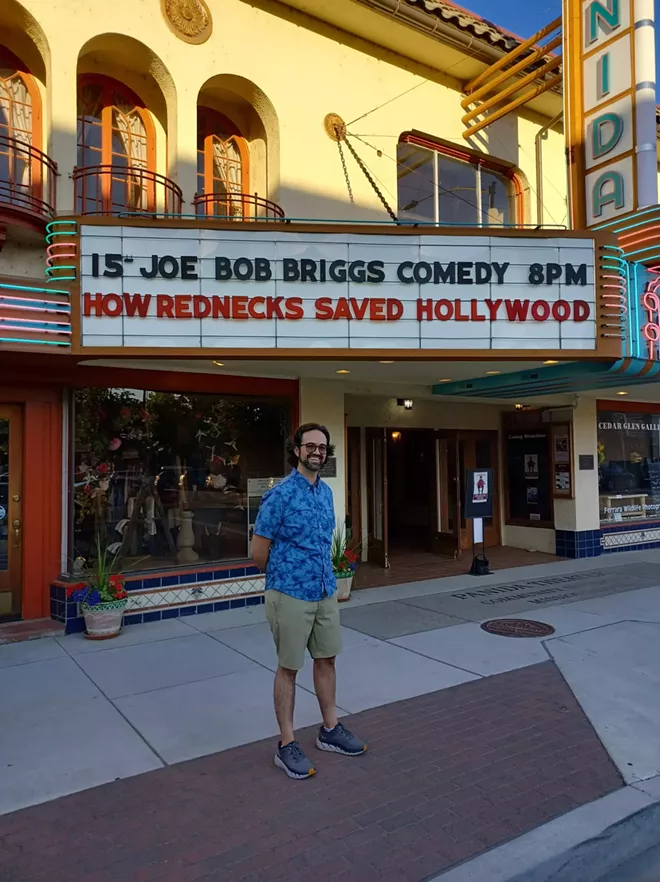 When I started this column in spring of 2020, I was under the influence of one man: Joe Bob Briggs.


Briggs, which is the stage name of writer and journalist John Bloom, has spent three decades hosting schlocky movies on cable TV and now streaming. He's known for his Texan drawl and peppering his humorous movie commentary with rigorously researched information. He's, as I've said before, highbrow on lowbrow.
So under his influence was I that, as we collectively watched the tectonic plates of society violently reposition themselves, I devoted an entire column to some of Joe Bob's wisdom ("Horror Host Might Hold the Key to Healing a Divided Nation," May 2020).
Like any fan who has found inspiration in a celebrity, I hoped to one day meet the man himself. Joe Bob regularly advertised his comedic lecture performances titled "How Rednecks Saved Hollywood," but it was always a day's drive from the Lewiston-Clarkston Valley, at best. This summer alone, he sold out Portland's Hollywood Theater. He also hosted the second annual "Joe Bob's Drive-In Jamboree," a festival/convention devoted to all things in the Briggs' oeuvre. Miraculously, it was announced he'd be at the Panida Theater in Sandpoint. On my 16th wedding anniversary.
Thank goodness it wasn't our 20th anniversary. God bless my wife for understanding. We've since gone out to a nice dinner.
Shortly after taking my seat in the Panida, the movie screen came to life. A compilation of country music videos played, featuring artists ranging from Kenny Rogers to The Dead South. After the final song, Joe Bob emerged and ascended the stage to the podium. My reaction was immediate. An involuntary and very real smile spread across my face. It was him.
Perhaps you've experienced seeing someone in person you've spent hundreds of hours watching on screen. Watching them suddenly materialize, even if it's expected — it takes your brain a while to catch up with your emotions.
From there, Joe Bob was off to the races. We were treated to a two-hour machine gun rundown that included a brief history of Presbyterians, how the Scots-Irish came to be (and they aren't "Scotch-Irish," scotch is a whisky), why the Scots-Irish settled in America, why the Scots-Irish are cantankerous and like to be left alone (see "how the Scots-Irish came to be"), the early days of redneck depictions in comic strips, the early days of rednecks in cinema, the essential components of redneck films, the greatest redneck films ("Deliverance," "The Texas Chainsaw Massacre" and "Smokey and the Bandit,") and, lastly, why God loves rednecks.
At age 69, the 120 minutes on stage didn't seem to faze Briggs. At the conclusion of the performance and accepting a standing ovation from the devoted, he descended the same stairs he'd taken on his way in and took a seat at the merch table for a meet and greet.
Joe Bob and his "Last Drive-In" co-host, Darcy the Mail Girl (aka actor Diana Prince), graciously said hello, briefly chatted with and signed autographs for all who came through the line. When my turn came, I handed him an envelope containing a copy of the aforementioned article I'd written about him. I told him he inspired me to start a monthly column in my local paper and that I'd been at it for two years. He took the envelope and asked if my contact info was included.
That struck me. Even if he didn't respond, which would be understandable (and perhaps I'd rather not know what he thought; I'm no pro and opinions are opinions), he seemed to have a professional appreciation that his influence had inspired me to produce something tangible.
Celebrity interactions are weirdly lopsided things. For the fan, it's a handful of highly anticipated seconds with intense personal significance. For the celebrity, and I'm inferring here, it can be very enjoyable and rewarding, but it's also a job, even on a good day. As for the adage that says to never meet your heroes, I can say it isn't true when it comes to Joe Bob. What he delivers on screen is the same matter-of-fact companionability you see in person. I'll never forget it.
"The Last Drive-In with Joe Bob Briggs" is available on-demand through Shudder, a horror-specific streaming service available on most platforms or at shudder.com.
Thompson enjoys putting somewhat carefully chosen words in relatively meaningful order. He lives in Lewiston and is on Instagram as @theswap_quadcities and can be reached via email at lcvrecordswap@gmail.com. He has been to college.