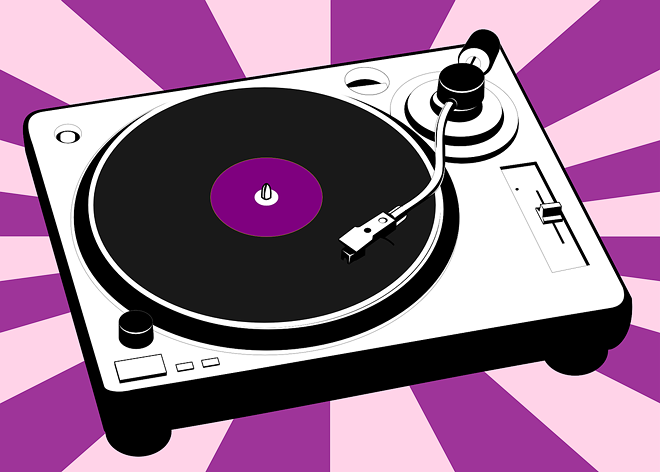 Commentary
By Will Thompson
"Wow, vinyl records are making a comeback!" Wrong. They already have. They're back and should be here to stay for the foreseeable future. The sales figures are there, if you want to go dig for them, and those numbers are only for new vinyl. They don't count the used markets of thrift shops, independent record stores, and the internet.
Getting into vinyl without a guide can seem daunting. That's because it is and it can sport a hefty price tag. So, here's another "how to get into vinyl" guide that the world doesn't need, but maybe it'll help you.
Nomenclature
First off -- it's "vinyl." Singular and plural. If you say, "Check out this vinyl I bought," you could be saying you bought a stack of records or just one. If you walk into a record store and say "vinyls," they will automatically upsell you on an overpriced Beatles bootleg and you will deserve it.
Stereos
When shopping for a record player, you get what you pay for. The suitcase-style record players that can be easily had at big box stores are almost always bad for your records. They're essentially toys. Yes, you'll get your vinyl jollies for a bit but don't take Uncle Andy's first pressing of the Beach Boys "Pet Sounds" and put it on that thing.
If you're wanting to dip your toe into vinyl and see how you like it, that's your cheapest option. The sound quality won't be very good from those tiny speakers but the next step is a component stereo of some kind, which means you'll need a record player, stereo receiver, two speakers, and possibly a preamplifier, which takes the tiny signal created by the stylus running across the surface of your record and makes it loud enough to be heard through your speakers. This is where things get infinitely pricier and more complicated. The answer to all your questions is: What can you afford and how much space do you have to store it?
It is here I refer you elsewhere for guidance. There are many good articles on stereo gear and a number of companies manufacturing excellent gear for the modern age. Remember that a component stereo is like a PC; you can upgrade pieces over time.
Record Shopping
The preferred shopping experience is in person. Buying records online is fine, especially if you want that first pressing of Mort Garson's "Plantasia," and not the reissue, so you can dunk on all your fellow synthesizer-loving friends. Other than the truly rare items you probably won't find in person, you really want to do your shopping in a store.
Record stores represent communities of like-minded individuals. You wanna get nerdy? There's no place better than a record shop -- but don't go in to brag. Your misprinted first pressing blah-blah-blah isn't as cool as you think it is. Also, most Beatles records are overpriced because the people selling them are lazy and greedy. Do your homework and don't get fleeced with the Fab Four, Pink Floyd, Bowie, Queen, and all the other classic rock giants.
Pricing the Used Stuff
Portland-based website Discogs is a database and marketplace for music releases of all kinds. This is the marketplace that largely sets the prices for used vinyl these days. You can also cross-reference with finished eBay auctions, but Discogs is the current standard bearer, for better or worse
Genre Dos and Don'ts
If you are into jazz, progressive rock, psychedelic rock, early punk, any number of metal subgenres, cult movie soundtracks, video game soundtracks, any genre that ends in "wave" or "core," or experimental music, just get a digital music subscription. The more oddball the music you're into, the more rare vinyl copies tend to be.
Condition
For some, the thrill of vinyl is that it sounds "old," and by this they mean they love the crackles and pops in the records. If you like the sound of scratches and dust distorting your music, I won't argue with you but when you walk away, I will wrinkle my nose in disgust and harsh judgment. Do you also sprinkle cardboard shavings on a great meal?
Vinyl does have a certain sound quality and a clean piece of vinyl won't sound like someone was crinkling newspaper over the top of "Ziggy Stardust." There's a reason near mint records fetch more than one that's been used as a coaster. Clean vinyl sounds like the music was intended to when it was recorded. If Roger Waters wanted it to sound like he was eating cereal in your ear during "Goodbye Blue Sky" on "The Wall," he'd have added that to the track himself. Treat your vinyl well. Don't touch the grooves. Only touch the center label and the edges.
Growing Your Collection
The following stores offer curated selections of new and/or used vinyl in the Quad Cities: Greenfield Glass and Goods (Clarkston), Revolver (Moscow), The Storm Cellar (Moscow), Skalicky's Sweet Sensations Bakery (Lewiston), Atom Heart Music (Pullman), Paradise Ridge CDs and Tapes (Moscow).
This week's extra credit: The Instagram account of fantasy illustrator Frank Frazetta's daughters, @frazettagirls. They regularly post full images and details of their father's work.
Thompson enjoys putting somewhat carefully chosen words in relatively meaningful order. He has been to college. He lives in Lewiston and can be reached at lcvrecordswap@gmail.com.