Two shows featuring work by members of the Idaho Watercolor Society will run simultaneously, from Aug. 28 to Sept. 28, in Moscow.
Works by artists from the society's North Region — spanning from Bonners Ferry to Grangeville — will be on display at Moscow Contemporary, a nonprofit gallery at 414 S. Main St.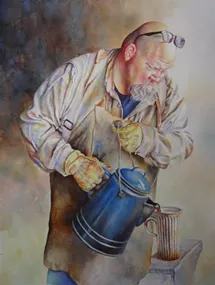 A traveling show, made up of 20 award-winning paintings from the society's annual Juried Membership Exhibition, will be on display in the hallway gallery at the
1912 Center
, 412 E. Third St. The center is open from 9 a.m. to 6 p.m. Monday through Friday and during weekend events.
"We have some artists with some pretty impressive credentials living in our North Region," Idaho Watercolor Society North Region representative Cheryll Root said in an email.
For example, Root wrote artist Jessica Bryant, of Coeur d'Alene, served eight terms as artist-in-residence for the National Park Service, visited the Owyhee Canyonlands Wilderness Area in southwest Idaho as artist-in-residence for the Bureau of Land Management and served as the 2018 artist-in-residence for the Idaho Conservation League, among other honors.
Others with work at Moscow Contemporary are Peggy Conrad, Bobbi Kelly and Jan Vogtman, of Moscow; Cathy Gottschalk, of Deary; Judy Mousseau, of Lewiston; Priscilla Patterson, of Post Falls; Root, of Troy; Jackie Zumalt, of Grangeville; and former Idaho resident Lori K. Seale.
More information is at
moscowcontemporar
y.org
.