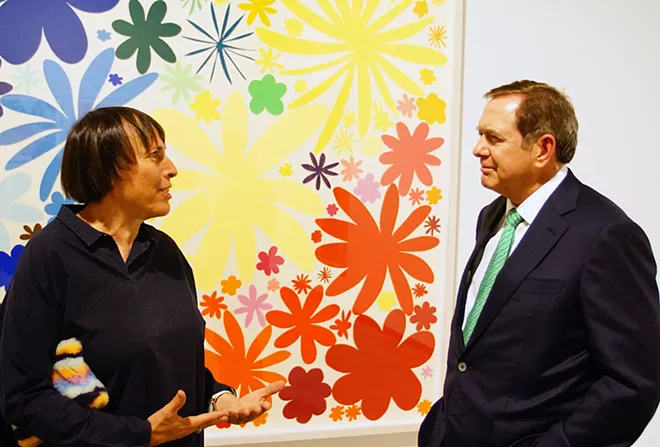 By JILL WILSON
for Inland 360
If you are looking for what Jim Henson once referred to as the "Rainbow Connection," it can be found in Polly Apfelbaum's print exhibit, "Frequently the Woods are Pink" on display at Washington State University's Jordan Schnitzer Museum of Art.
Apfelbaum is a hybrid artist engaged in many art genres, including graphic design, sculpture, installation, fashion and pop art. Initially recognized in 1986, when she had her first solo show in New York, her work has gained prominence with exhibits in major galleries around the world. The American Academy in Rome said Apfelbaum's work represents "the highest standard of excellence in the arts and humanities." She also has designed a rug and two handbags for the fashion house Dior.
"Frequently the Woods are Pink" is the first-ever show to focus on her distinct printmaking process. The exhibition highlights projects produced with her long time publisher Durham Press, which is co-owned by master printer Jean-Paul (J.P.) Russell who also worked with Andy Warhol.
Apfelbaum addressed the jaded view the art world has towards prints during a talk at an opening reception for the exhibit last week,
"The art world has little boxes, and I'm not an artist who has been interested in that," she said. "I like to try everything. I think people have certain prejudices about printmaking, but I don't and obviously Jordan (Schnitzer) doesn't. There is something very special about prints. Hopefully you will see and you will get why."
Apfelbaum also discussed her improvisational process when creating an original print.
"There is a sort of collaboration, a back-and-forth dialogue. There can be many hands in the mix." she said. "It's experimental. It's also an adventure. For me, it's going in and being very open minded and not having the end come first. You think it will turn out one way, but then it kind of takes you. I like this idea, that things can be really fluid. We start at 8 and we don't look up until 6, when the day is over."
To Apfelbaum, choice of color is intuitive and emotive.
"I think color is an emotional thing, it's like a mood ring," she said. "I like strong, straight-out-of-the-tube color," she said. "When you are printing, you have to mix the color no matter what, but I was really into color and sort of the clichés of color just going through the spectrum."
When asked what she wanted her legacy to be, Apfelbaum replied, "I used to say 'When I go, take a match to the storage unit.' (Legacies) are for the art historians. Most days I don't know what will happen tomorrow, and I wouldn't have it any other way."
IF YOU GO
WHAT: "Frequently the Woods are Pink," by Polly Apfelbaum.
WHEN: Through March 14.
WHERE: Jordan Schnitzer Museum of Art WSU, 1535 Wilson Road, Pullman.
COST: Free.
OF NOTE: Gallery hours are 10 a.m. to 4 p.m. Tuesday through Saturday.