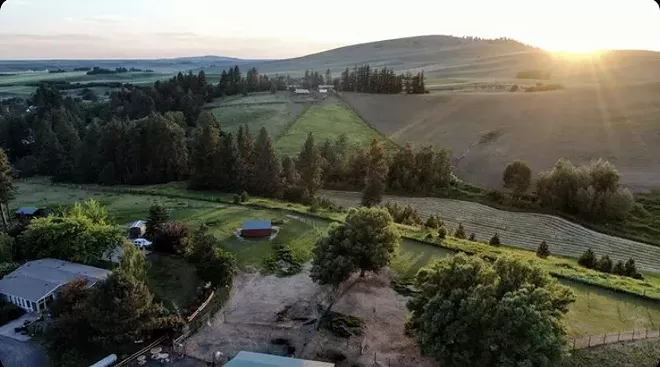 By DAVID JACKSON
for Inland 360
Most people have probably heard the phrase "farm-to-table" as it relates to the idea of using locally grown food to produce meals.
If Katie DeWinkle has her way, a lot of people will soon be thinking about the concept of "sheep-to-shawl" – harvesting raw fiber from local animals and using that fiber to make clothing.
DeWinkle, who with her husband Cory owns Grazing Hills Alpacas Ranch in Viola, is partnering with Christine Nauman, owner of Wooly Pines Farm in Moscow, to produce the first annual Grazing Hills Fiber Arts Festival Saturday and Sunday at the Grazing Hills Alpacas Ranch.
Festival activities will include 14 workshops, vendor booths, live shearing demonstrations and special events for youth, such as face painting and crafting. There also will be live music from area bands and food vendors.
Attendees of all ages will no doubt be interested in seeing the real stars of the show – the wool fiber animals themselves. DeWinkle's 36-acre ranch includes 52 alpacas, and Nauman will have four Pygora goats there as well. Pygora goats are a cross between registered pygmy goats and white Angora goats.
The festival's primary focus is promoting the use of wool and other natural fibers for clothing and arts and crafts. Nauman said her interest in natural clothing stemmed from her experiences with other all-natural products.
"I've dealt with food allergies, especially food additives, which got me interested in whole foods," she said. "That got me thinking about people who have reactions to certain kinds of clothing. I'm interested in all things natural – essential oils, whole foods and clothing."
DeWinkle and Nauman first began thinking about organizing a festival after DeWinkle's successful farm day event to celebrate National Alpaca Days last September. As a member of the Alpaca Owners Association, DeWinkle was encouraged by the association to showcase animals as part of the national campaign to expose the public to alpaca farms. Some members do a simple open house, but DeWinkle decided to do a little more than that, adding classes and entertainment to her event. Not knowing what to expect, she was shocked when the event drew more than 700 attendees.
"It was supposed to be low-key … we only had one food truck," she said. "We didn't expect that kind of a turnout. So Christine and I started talking about starting our own thing."
And what a thing it's shaping up to be. In preparing for this larger-scale event, DeWinkle said they initially hoped to attract around 25 vendors -- they are now expecting more than 50. Based on feedback through Facebook pages and other outlets, she said attendance could approach 2,000 for the weekend.
"We've got vendors coming in from as far away as Minnesota, and attendees coming in from places like Florida, California and British Columbia," she said. "We are so excited about this."
Classes will teach participants how to take raw wool and create clothing or crafts with it. Once the fiber is sheared from the animal, it is washed and then carded, a process which creates long sheets of wool. From there, the material is spun, which turns the fiber into yarn. Once it becomes yarn, it can then be felted, knitted, crocheted or woven.
DeWinkle hopes the overall message to all attendees is a simple one – "you can make your own stuff."
"Whether you say "sheep-to-shawl" or – my personal favorite – "alpaca-to-poncho," we want to show everyone what's possible."
IF YOU GO
WHAT: Grazing Hills Fiber Arts Festival
WHEN: 9 a.m. to 5 p.m. Saturday, July 13 and Sunday, July 14
WHERE: Grazing Hills Alpacas Ranch, 1042 Four Mile Road, Viola
COST: Free admission. Classes range from $30 to $85.
OF NOTE: A class schedule is available online at ghfiberfest.com. Pre-registration for classes is closed, but there will be limited walk-in slots for some classes. Additional information is available by calling (208) 882-8307.