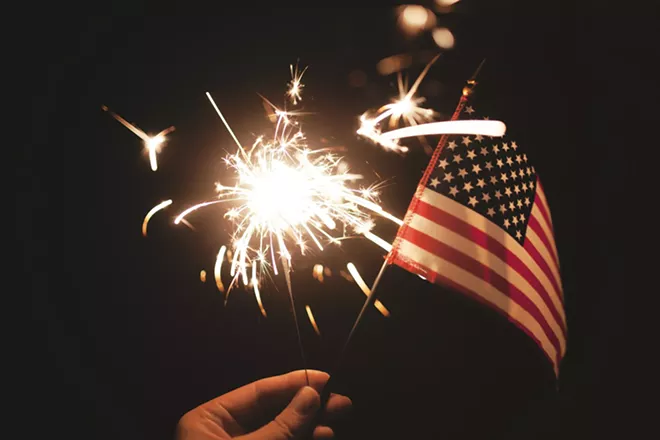 Enjoy food, fireworks, family and friends at these Independence Day festivities offered throughout the region. With the holiday occuring mid-week, look for activities on the weekend prior and after, along with the day-of:
Lewiston
Enjoy early Fourth of July festivities at the
P1FCU Star Spangled Celebration
and
Sun Festival Show & Shine
from 10 a.m. to 3 p.m. Saturday, June 30 at Pioneer Park, 203 Fifth St. The free event includes children's games and activities, food vendors and live music by Whiskey Roundup.
The Lewis Clark Community Band will perform patriotic music at a free concert at 4:30 p.m. Wednesday, July 4 at the Pioneer Park Bandshell, 203 Fifth St.
Clarkston
The 33rd Annual Community Spirit Fireworks show is from 4 to 11 p.m. Wednesday, July 4 at Clarkston High School's Adams Field. Kids activities and food vendors will be available, with live music beginning at 7 p.m.. Fireworks are at 10 p.m. Donations can be made online to support the fireworks show at www.lcvalleyfireworks.org.
A Day of Fun will begin at 10 a.m. Wednesday, July 4 at Vernon Park, downtown at the corner of Sixth and Chestnut Streets. The free event will feature old-fashioned games for kids of all ages with prizes and treats. Hot dogs, pickles on a stick, water and lemonade will be available for purchase.
The Asotin County Family Aquatic Center is offering a half-price discount on all daily admissions on Wednesday, July 4. The outdoor park is open from 11:30 a.m. to 6:30 p.m. Discounted rates range from $4.50 to $5. The center is at 1603 Dustan Loop.
Pullman
Pullman's Fourth of July Celebration begins at 5 p.m. at Sunnyside Park with food, children's activities and live music. BBQ chicken and beef, burgers, hot dogs, watermelon, corn and pie and more will be available for purchase, for $2 to $6. Live music includes the Community Band of the Palouse playing at 5:30 p.m., folk singer Dan Maher of Pullman at 6:30 and the Fabulous Kingpins at 7:15 p.m. Fireworks begin at dusk.
Moscow
Moscow's Fourth of July Celebration will begin at 9:30 a.m. Wednesday, July 4 in Friendship Square with a flag presentation, Pledge of Allegiance, national anthem and reading of the Declaration of Independence. The annual Mutt Strutt follows, where best-dressed dogs in red, white and blue will win prizes. Treats will be available for all.
Orofino
Fourth of July celebrations begin on Wednesday, July 4 in the river with the annual Community Float taking place all day. People are invited to wear a life jacket, bring a flotation device and float the river at their leisure. The Rotary Barbecue begins at 5 p.m. at Orofino City Park; a flag ceremony and national anthem will be at 5:30 p.m. with live music by the Amish Rake Fighters at 6 p.m. The free fireworks show starts at 10:10 p.m.
Johnson
The annual Johnson Fourth of July Parade starts at 10 a.m. Wednesday, July 4 and features a wide range of zany floats. For good parking and seating, plan to arrive much earlier. Those interested in participating are welcome and are asked to show up early to get in the lineup.
Grangeville
Grangeville's annual Border Days begins Wednesday, July 4. The three-day festival features parades at 2 p.m. and rodeos at 6 p.m. Wednesday and July 5 - 6. Rodeo admission is $12 adults, $5 for ages 11 years and under and free for children age 5 and under.
The Border Days Fun Run is 8 a.m. Wednesday with signups beginning at 7 a.m. at the Umpqua Bank parking lot. Art in the Park is from 10 a.m. to 6 p.m. Wednesday and Thursday. A kiddie parade is at 1 p.m. Wednesday prior to the regular parade.
The Camas Prairie Cruisers car show is from 10 a.m. to 3 p.m. Thursday across from city park. Cowboy breakfasts, street games and live music fill out the celebration. Find out about additional activities at grangevilleborderdays.org.
Winchester
The annual Winchester Days takes place July 6-7, kicking off with a Youth Talent Show at 6 p.m. July 6 at the Winchester Community Center. Festivities on July 7 begin at 6:30 a.m. with a cowboy breakfast at the Winchester Community Center (cost $7 or $3/ages 6 and under), then The Run in the Woods 5K run/walk, starting at 8 a.m. at The Gateway and a parade at 10:01 a.m. followed by children's games. A lunch of barbeque pork sandwiches will be available for $8 at noon, around the same time as the auction. Softball at Winchester ball field is at 2:30 p.m. and a street dance kicks off at 5 p.m. with Ruff Kutt on Main St. Fireworks over Winchester Lake are at 9 p.m.
Elk River
The annual fireworks show Thunder in the Mountains is Saturday, July 7. The show begins at dusk, around 10 p.m., at the airstrip in the middle of town. Earlier in the day community events include music and food available for purchase.
Joseph
The Wallowa Old Time 4th of July begins with a parade at 11 a.m. Wednesday, July 4, followed by a barbeque at Wallowa Fire Hall at noon, featuring live music. The Shake the Lake 4th of July Fireworks begin at 9 p.m. over the lake.