By MICHELLE SCHMIDT Inland360.com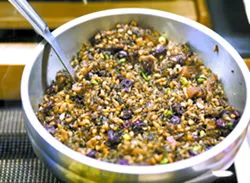 When it comes to area food trends, local chefs report that it's less about specific ingredients and more about ideals.
Dietary preferences — gluten-free, paleo and vegan diets (see definitions below) among the most prominent — are all on the rise, with gluten-free diets notably outpacing the others. According to Patty Brehm, kitchen manager at the Moscow Food Co-op, gluten-free Wednesdays at the deli are by far their most popular day.
And it's not just a narrow demographic who are eating this way. Brehm has observed that these health-oriented dietary preferences, once observed by a few, have gone mainstream.
"Everyone's going back to 'food as medicine,' " Brehm said.
But it's not just specific foods. Social ideals are also on the rise when it comes to food, with more restaurants featuring seasonal, locally grown foods and quality, responsibly raised meats. For some restaurants, like the Nectar in Moscow, these values — rather than a specific type of cuisine — form the foundation of the menu.
And there's continued shifts in this direction. Happy Day Corp. in the Lewiston-Clarkston Valley, for example, reports a movement at their full-service restaurants toward simpler menus featuring whole, higher-quality foods.
"This is the trend going on in bigger cities," said Stefan Depetris, corporate chef and general manager of the Mystic Café, who was recently hired out of Boulder, Colo.
The Mystic Café, which is to open soon in the former Sage Café location, will serve food that is "as organic as possible" and incorporating local foods, along with unusual cheeses, wines and craft beers. Other Happy Day menus will similarly be moving toward quality ingredients prepared in simple, traditional — and, according to Depetris — more delicious ways.
They'll also be building off growing openness to various cuisines from around the world. He and other local chefs report that people are more open to unusual foods than they have been.
"I think people have become more adventurous with their food," said Tina Poe, chef at Seasons Bistro in Lewiston.
She cites the chipotle citrus duck on her menu and the popularity of cioppino, a seafood stew with tomatoes, garlic, crab, shrimp and salmon. Poe draws inspiration from trends in California, New York and Las Vegas, looking for things that are "interesting, but not too over the top crazy." Which is to say she doesn't plan to introduce the organ meats that are all the rage in New York restaurants.
Down the street, Magen Goforth, chef at Simple Eats in Lewiston, has seen the same interest in unusual foods. The PB & J burger is one of their biggest sellers, which combines the sweet Thai flavors of peanuts, red onions, pepper jack and tomato jam — which has its initial skeptics — on a hamburger.
"People want something they haven't had before," Goforth said. "They're more trusting and curious." What's the reason for the shift in attitudes? Both Poe and Goforth point to the Food Network.
Goforth, who has been catering since 2007, has noticed that people are more educated about food than they used to be. They want to know what is in their food and why and they find the knowledge important enough to retain.
"Everyone's a foodie," Goforth said. "Food itself is a trend."
Unusual food has become a status symbol, she said, observing that food seems to contribute to a person's identity in ways it previously hadn't. This observation was hinted at by others, who expressed some doubt that those who request gluten-free foods are actually gluten-intolerant. They attribute the trend to a desire to make healthy choices and be identified with such.
But food trends are not all just ideals. There are a handful of specific foods that have recently risen in public opinion, like kale, which forms the foundation of a favorite salad at the Moscow Food Co-op, and specialty cheeses, like goat and local cheeses. Ancient grains are another big thing. Brehm is using farro, einkorn and spelt in salads, soups, risotto and other hot foods that they serve in their deli. While these grains aren't gluten-free, they are low-gluten and many who are unable to tolerate modern wheat find they have little trouble with its agricultural ancestors.
Dietary definitions
Gluten-free: A gluten-free diet excludes anything with gluten, a protein composite found in wheat and several other grains. Rather than avoid traditional wheat-based products like breads, desserts and pastas, many seek out gluten-free equivalents that replace wheat flour with gluten-free flours made from alternative grains, nuts and beans.
Paleo: The paleo diet is based on the presumed diet of cavemen: meats and seafood, fruits, vegetables and seeds. Grains, legumes, dairy products, sugar and processed oils, which come to us courtesy of an agricultural society, are not on the list.
Vegan: A vegan — someone who practices veganism — doesn't consume foods made with animal products, including meat, eggs and dairy products. Vegetarians differ from vegans in that they simply avoid meat.
Schmidt can be contacted at themichelleschmidt@gmail.com or at (208) 305-4578.