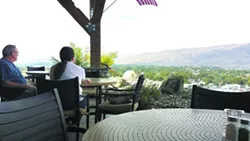 Since Ernie's Steakhouse opened in Lewiston last spring, I asked anyone who'd eaten there about their experience. The reviews were all over the board, from great to never again.
Granted expectations were high. The owners purchased a former buffet that offered generic food in a generic building and they jumped into a months-long extensive remodel. The building is known to have one of the best public dining views of the Lewiston-Clarkston Valley and the owners were reincarnating a restaurant originally established in Grangeville.
I visited Ernie's this fall for lunch and was stunned by the venue. From the enormous wood entry doors with wrought iron handles, to the river rock fireplace, trophy heads and booths upholstered with fake cowhide, the restaurant flaunts contemporary Western design. It's the kind of place you'd want to take visiting Europeans to confirm their belief that the wild West is alive and well.
Lunch was a good time (uncrowded) to enjoy the outdoor stone patio that takes advantage of the sweeping views framed by massive beams. The patio adjoins the bar and is styled to look like the face of a barn, except that the "barn doors" that open to the outside are a series of lovely green folding glass panels.
Ernie's offers a wide range of regional wines and microbrews along with a full bar. The menu includes Choice Rib Eye Steak, 14-ounce hand cut and topped with grilled onions and fresh blue cheese ($29). The Big "Ern" is a 16-ounce bone in rib steak ($33). Fire grilled Alaskan wild caught sockeye salmon ($20) and Pan Fried Oysters ($29) are a couple of the seafood choices. Ernie's version of the regional favorite, bite sized steak is called Bite Sized Beef Tidbits ($19).
Besides the pricey steak offerings there are burgers, salads, sandwiches and lighter fare. Ernie's Steak House Salad comes with pit smoked prime rib atop greens, tomato, red onions, mushrooms, olives and crumbled blue cheese ($15). Burgers range from the basic Clearwater Burger — lettuce, tomato and onion ($10) — to the Big Kipper, a double patty, bacon, Swiss, cheddar, lettuce, tomato and onion ($15). I had the Kirkwood Chicken Cordon Blue sandwich, wood fired barbecue chicken topped with melted Swiss and grilled onion ($12). My experience didn't measure up to the extremes I'd heard. I found good food, pleasant service and a view that is worth enjoying on a beautiful fall day.
Ernie's Steakhouse, 2305 Nez Perce Drive, Lewiston, (208) 746-4141