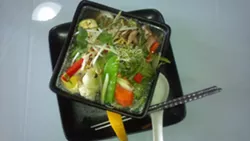 DAYTON, Wash. — On a recent trip here, I wanted to eat at Patit Creek, a four-star French restaurant with a reputation that spans the vast empty spaces of southeastern Washington. Alas, it was Monday and it was closed, but it turns out Dayton has more than one cosmopolitan eatery.
"World eclectic cuisine" is the fare at Manila Bay Cafe, a downtown restaurant serving lunch and dinner. Bright yellow walls covered with art enclose the small space. The menu borrows from around the world — for lunch one could choose Bosnian style goulash with paprika and beef ($12.50), Singapore curry ($15) or Hawaiian kalua pork cooked in ti leaves in a pit ($13.50).
Local tastes are among this worldly fare. The appetizer duck confit flatbread ($12), is a seasoned flatbread that comes with Monteillet Causse Noir, a hard cheese from a nearby artisan-farmstead cheese maker.
I ordered Japanese udon noodles with vegetables ($14), which arrived with a slice of lemon speared by a pair of silver chopsticks. There must have been a dozen different vegetables in the broth, each steamed to perfection. Regretfully, I was too full for dessert, but it would have been hard to choose between red velvet cake ($8) and young coconut ice cream ($4.50).
Manila Bay Cafe: 311 E. Main St., Dayton, (509) 382-2520.