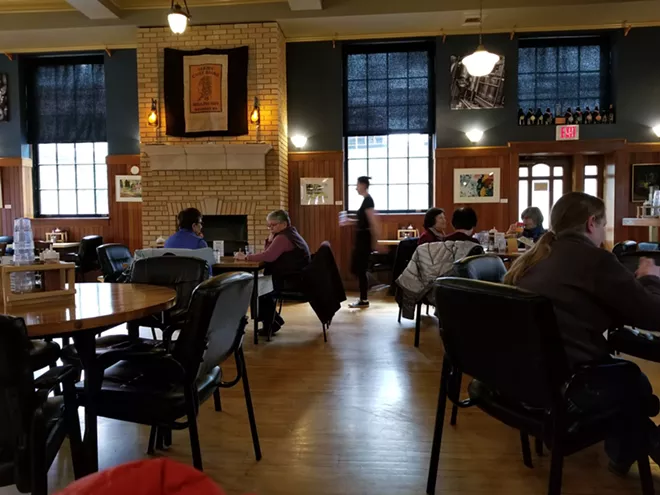 Away from home, adventurous eaters want to taste the local specialties.
In Seattle, tourists flock to Starbucks at Pike Place Market, convinced there must be something different about coffee brewed in the exact spot where the ubiquitous chain began.
In Pullman, it's lentils and Cougar Cheese.
Several restaurants serve the two in a variety of ways. Most common are lentil chili, lentil burgers and Cougar Gold mac 'n' cheese. You'll find all three at Paradise Creek Brewery.
Mac 'n' cheese made from cheese that costs $22 a wheel is decadent comfort food, but when ordered on a rainy day while sitting in front of a fire in a 1930s post office, it's worth it.
Paradise Creek Brewery features craft beers and upscale pub food — burgers, salads, sandwiches — in a stately, historic building with a white brick fireplace, hardwood floors and marble countertops. Those who remember Swilly's restaurant will find some of its most popular dishes on the menu here, served up by chef Joan Swenson.
The Cougar Gold Mac-n-Cheese ($13/bowl, $5/cup) is creamy and rich with a satisfying crunchy topping of panko. The curry in the Curried Lentil Burger ($11) doesn't overwhelm the legumes but builds on their earthy flavor. In the chili, lentils and kidney beans are blended in a smoky tomato sauce topped with chopped brisket ($6/bowl, $4/cup).
Dinner specials served after 5 p.m. venture farther afield, such as wild-caught salmon with Asian barbecue sauce (market price) and Brazilian Seafood Stew: prawns, mahi-mahi and mussels with tomato, onion, pepper, ginger and garlic in a spiced coconut milk sauce ($24).
If you're more thirsty than hungry, the brewery moved its beer production to a new location and recently opened the Trailside Taproom in a garage-style setting off the Bill Chipman Palouse Trail near the Pullman City Playfields.
Paradise Creek Brewery, 245 S.E. Paradise St., Pullman; (509) 338-9463 Trailside Taproom, 505 S.E. Riverview St., Pullman; (509) 339-6894