PULLMAN — Little coffee shops can have enormous meaning in daily life. They're places we go to slow down and enjoy the simple things, like a drink made with care. Roost Coffee & Market in downtown Pullman is a cozy shop with a neighborhood feel that unites metro appetites with local fare.
Outside the front door people can pick up a sack of used coffee grounds for their gardens. Inside, long windows fill the room with sun. Big glass jars on the counter offer dried morel and porcini mushrooms for sale by the ounce. Customers sit along the sides while friendly baristas craft drinks at the center, and craft is the word as Roost is up on what's popular in coffee circles.
You'll find Pour Over coffee ($3.25), a Japanese method of slow brewing cups by hand. You can also order Chemex coffee for two ($6.75), another pour over method that leaves a light drink with nearly no sediment. Coffee beans come from Landgrove Coffee in Troy and other regional roasters. You can add house-made syrups to lattes, mochas and other drinks.
Besides coffee there's Himalayan Chai made in Moscow by the Chai Society ($3-$3.70). It's an authentic recipe its makers brought back from Nepal and a welcome alternative to the ultra-sweet Oregon Chai prolific in Northwest coffee shops. If you don't drink milk, alternatives include house-made almond milk sweetened with dates.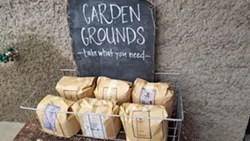 Breakfast and lunch food can also be had. Besides toast, baked oatmeal and homemade pastries there's house granola served with milk or Greek yogurt and Woodland Apiaries honey from Moscow, and a variety of quiches, handmade croissants and sandwiches.
Roost Coffee & Market, 125 S.E. Spring St., Pullman, (509) 332-8534