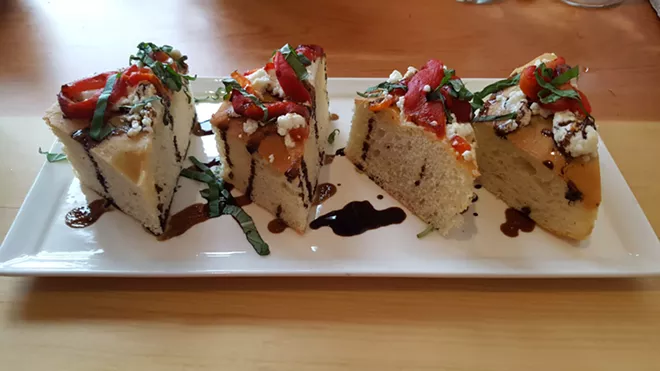 CLARKSTON -- Polenta isn't the kind of thing people usually get worked up about, but after Saute on Sixth opened late last year in Clarkston that was the dish I kept hearing about.
Take this as a sign, area restaurateurs, that there's a hunger for alternatives to meat and fries. Saute has those staples but it also reaches into more uncommon territory with picturesque and flavorful results.
At lunch on a recent day, a pretty arrangement of the house-made focaccia bruschetta showed the care that goes into presentation, the cake-like triangles of bread topped with fire roasted red peppers, goat cheese, basil and a balsamic reduction ($8). A New Orleans-influenced soup of the day was a true seafood gumbo ($4 cup/$6 bowl). It made me consider ordering the "The Big Easy" muffuletta sandwich with ham, hot capocollo, prosciutto, olive tapenade, provolone on house-made focaccia bread ($11). Other choices: a grilled chicken pita wrap with buckwheat groats, kale saute, feta, red onion and lime ($10.50) and a third pound Cougar Gold Cheese Burger with roasted tomato, caramelized onions and garlic aioli ($12.50). If you're a "fine dining" establishment in the region there seems to be an unspoken rule that Cougar Cheese is somewhere on the menu.
Back to the polenta. The dish is rosemary polenta with mushrooms, wilted greens, green lentils and tomatoes ($12 lunch/$18 dinner). It's a savory blend of tastes and textures and probably one of the best vegetarian dishes in the Lewiston-Clarkston Valley.
Daily specials and seasonal changes to Saute's menu provide variety. For dinner last New Year's Eve I had a memorable meal of grilled swordfish with crawfish, fresh thyme, beurre blanc, saffron rice, and French beans ($29) with dark chocolate flourless cake for dessert ($7).
Menu prices and options vary for lunch and dinner. Currently the restaurant is only open for lunch two days a week, Thursday and Friday. It's open for dinner Tuesday through Saturday. This summer I'm looking forward to returning for a meal or a drink on their outdoor patio.
Saute on Sixth, 900 Sixth St., Clarkston; (509) 295-8925