Once upon a time, pagans waited in eager anticipation for apples to ferment into a drinkable beverage for yuletide celebrations.
Today, even with so many more libational options than our ancestors had, it's easy to get stuck in a rut. If you find yourself ordering the same-old cranberry vodka that you do every year during the holidays, there's inspiration to be found at Hogan's Pub in Clarkston. Seasonal drinks help celebrate the passage of time, and Hogan's December drink menu combines classic beverages with fresh ingredients in novel ways to satisfy savvy 2019 taste buds.
A great cocktail is carefully crafted to balance the base spirit with sour, sweet and bitter flavors that cover the whole palate, said Skate Pierce, Hogan's owner and bartender.
"A lot of work is in the preparation."
At Hogan's, cocktails are born from experimentation.
"Sometimes you start with a good flavor profile and sometimes you come up with a really good name first," said bartender Gary Burleson.
His thick and tasty Kentucky Speedball is an example of unexpected combinations spawning a new species of refreshment. The cold, rich drink balances 10-year-old bourbon whiskey and cold brew espresso with a banana- and stout beer-infused syrup and heavy whipping cream infused with fresh cardamom pods.
"That really is a drink for everybody, even if you don't think you like whiskey," Pierce said.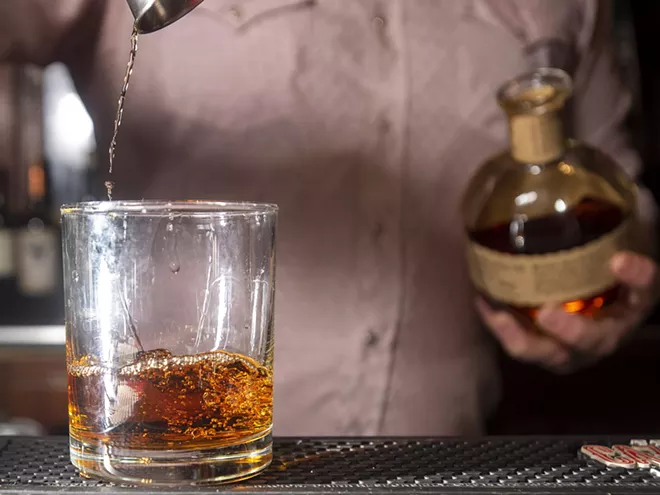 Long before Starbucks rolled out the Pumpkin Spice Latte, people waited in anticipation for the holiday arrival of eggnog. Pierce created his own recipe, Skate's Sweet Potato Eggnog, made with sweet potatoes, heavy cream, eggs, cognac, dark rum and vanilla liqueur.
"I drank a lot of eggnog getting that recipe," Pierce said. "The sweet potatoes add a different kind of sweetness than brown sugar."
Hogan's eggnog, topped with fresh-ground cinnamon and nutmeg, is an exceptional nog because it isn't too sweet -- which makes it dangerous. You can easily get lost in its depths and forget you're drinking alcohol.
Other cold drinks on the menu: The San Junipero, an extra dry juniper gin with Three Pin Alpine Liquor shaken and served ice-cold in a martini glass, is what hunting for a Christmas tree on a snowy day would taste like.
The Clausmopolitan is a holiday variation on the classic Cosmopolitan. It combines a house-made, citrus-infused vodka with a rich, hand-crafted "Christmas" simple syrup that condenses the bright fruits of the holidays into a single serving (find the recipe here).
To make the citrus vodka, Pierce soaked the zest of eight lemons in one gallon of vodka for four or five hours before straining out the resulting concoction.
"It will turn a bright yellow. It really works quick. If you don't strain it, it basically turns into a cleaning agent," he said.
There are hot drinks to warm up with, including the comforting Hogan's Christmas Toddy made with ginger-infused honey syrup, lemon juice and whiskey.
Holidays in Jalisco, another Burleson creation, features hibiscus flower-infused cider served hot with ginger-honey syrup, fresh-squeezed lemon and lime juice and reposado tequila. Reposado means "rested" in Spanish and refers to the time the tequila rests before being bottled, anywhere from two months to a year.
Nearly all the holiday cocktails on Hogan's menu are $6 to $9. With two weeks 'til Christmas, there's time for a few cups of holiday cheer.
Hogan's Pub, 906 Sixth St., Clarkston; (509) 758-6311.