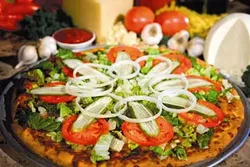 In the Lewiston-Clarkston Valley, Fazzari's has long reigned supreme as having the best pizza around. One attraction is the Shotsy, slathered in mustard sauce, Swiss and Mozarella cheese, smoked Polish sausage, onions and sauerkraut.
Lewiston's Southway Pizzeria is competing for the title with its alternative pizzas. Pesto and marinara sauce make a savory combination in Joy's Primo topped with artichoke hearts, mushrooms and sliced tomatoes (large, $20.95). The Loaded Potato Pizza comes with ranch sauce, red potatoes, bacon, green onion and cheddar. Reaching beyond red sauce, the Ultimate Cheese Burger Pizza uses special sauce. A sweet and spicy peanut concoction is the base for the Thai Chicken Pizza. Many pizzas are available gluten free.
The restaurant also has salads, pasta, sandwiches and a juice bar. Drinks are freshly juiced on order. Among them are the Incredible Hulk: cucumber, lime, celery, green pepper, parsley, spinach, green onion and jalapeno. The Smartie is orange, peach, strawberry, blueberry, banana, and non-fat yogurt ($6.95) and tastes like the sweet and tart candy.
Southway Pizzeria: 721 Southway Ave., Lewiston, (208) 743-0400.
We periodically feature an area restaurant's specialty. Restaurants can nominate their unique dishes at jkbauer@inland360.com.