Art can be more technical than a paint brush and a piece of paper. Sometimes, art includes the viewer, the gallery and multiple points of view and perceptions.
For Arash Adel, a Washington State University Architecture Weller Fellow, his art installation, to open Friday at the Dahmen Barn in Uniontown, started with a computer.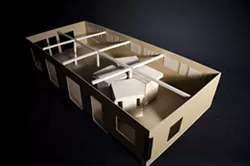 "We are building four small spaces inside the barns, but they have very specific relationships to each other, derived from a computational method," Adel said.
Adel and 13 of his research assistants, who are WSU architecture students, helped build "Oblique Interactions," a computed, constructed research project that acts as a type of maze or gallery separator, while the watercolors and oils of Andy Sewell hang in the barn.
"His paintings are on the wall. We use those (locations) as the input," Adel said. "We want to create a relationship between a user and the art."
Standing at points in the barn, certain Sewell paintings are framed by the WSU construction. Sometimes, others are blocked, depending on where the viewer stands. At some places, you may see a hand or foot of another barn visitor.
"If someone is standing in front of a painting, the way we are designing it, it frames the person and the painting," Adel said.
The two month project of drawing, writing and building was done in layers, just like the physical manifestation of the project itself: one interaction is between art and architecture, another happens between the viewer and the space, while the third interaction happens socially, between art viewers, Adel said.
"We're trying to create unexpected moments," he said. "You look through and see someone or something you don't expect to see."
"The HeART of the Palouse" by Andy Sewell will continue hanging until March 30, while a reception for "Oblique Interactions" takes place 5-7 p.m. Friday. The installation will remain until Friday, March 21. Both exhibits are free to the public.
Treffry can be reached at (208) 883-4640 or ltreffry@inland360.com. Follow her on Twitter @LindseyTreffry.
->if you go: WHAT: Oblique Interactions, a research installation by WSU WHEN: Friday through March 21 WHERE: Artisans at the Dahmen Barn, 419 N Parkway, Uniontown, WA COST: Free