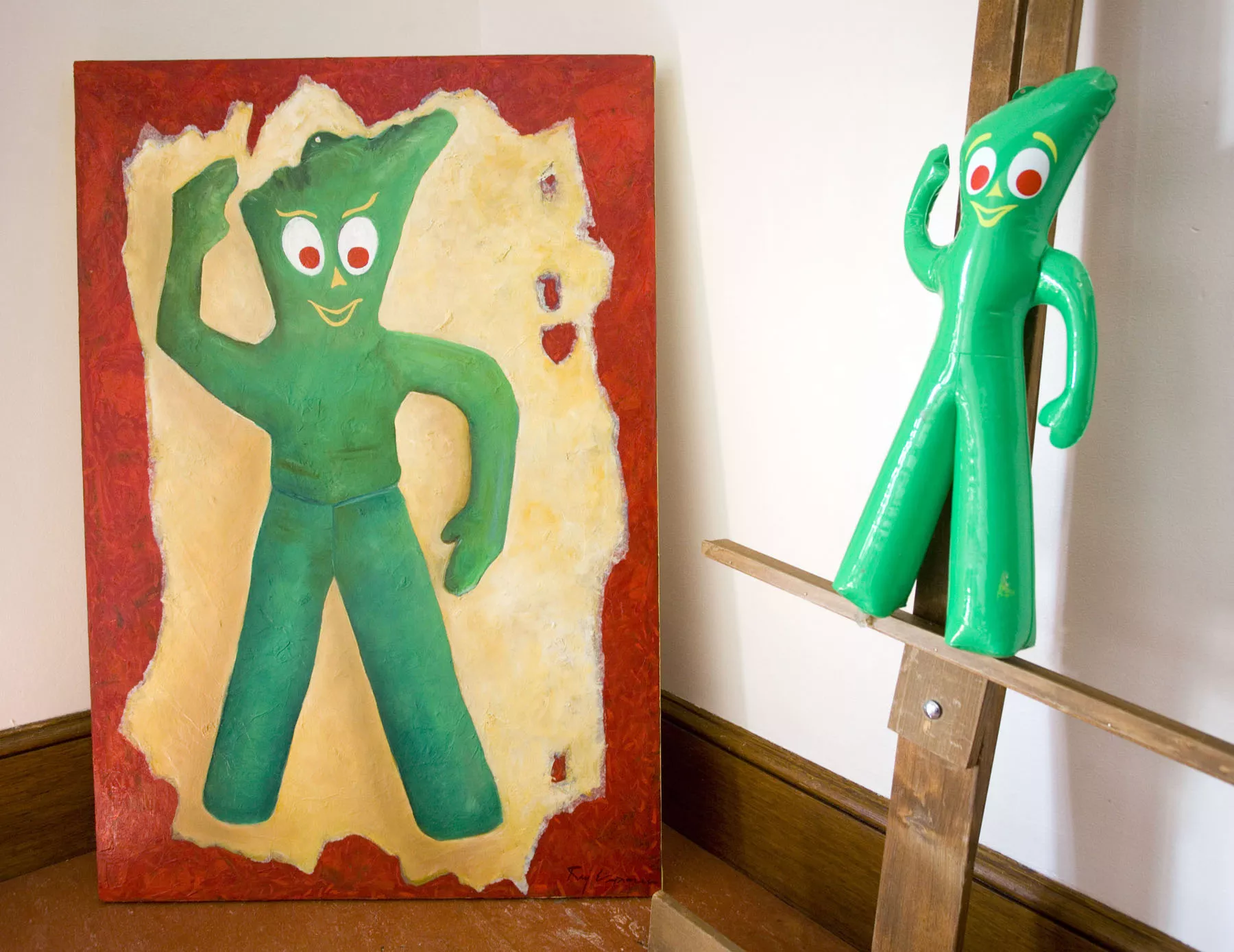 This piece by Ray Esparsen is part of the Inflation Celebration at the Third Street Gallery in Moscow. The painting was inspired by the inflatable next to it.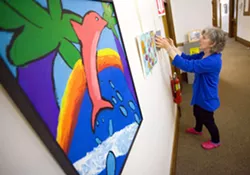 Being portable and collapsible, inflatable objects have their advantages.
An eight-foot inflatable palm tree adds a nice touch for a relaxed reading experience, inflatable shorts are a hit at parties, and an inflatable birthday cake can come in handy too.
At least, that's what Jennifer Rod has found. The Moscow artist collected a number of these items over the years and recently discovered a couple suitcases full of them while moving. She'd always wanted to see them all inflated together, but that had never happened and it was time to get rid of them. She figured she'd at least draw them first, as a way of "keeping" them.
But there were at least 50 objects and she was busy moving. That's when the idea hit her: why not have other people draw them? She knew plenty of artists. Then she wondered about having a poem about each object. She started handing out inflatables to see what might happen.
"The project kind of inflated itself," Rod said. "Once it got a little air, it just got bigger and bigger."
A year and a half later, more than 50 inflatables with their corresponding art and poem are on display at the Third Street Gallery in Moscow. "Inflation Celebration" features the creative work of almost 90 different people.
Because so many were involved, moving the project along was "like herding 9,000 cats," Rod said. The result is a visual and verbal collection that includes a wide range of styles, media and concepts.
The whimsical, low-pressure project was a creative reset in many ways for a number of artists and writers, Rod said. What came back was often a surprise, and it's that element of surprise that Rod has always loved in work she creates or views.
"It's the longest, stretched-out surprise I have ever had," Rod said, laughing.
Of all the artists who contributed to the show, the late Bob Kearney perhaps contributed the most, she said. Kearney was a physics professor at the University of Idaho and Rod recruited him to write for the project around the same time he hired her to do regular house cleaning.
Kearney had been diagnosed with a terminal lung disease but he was excited about the project, she said. The two would talk through solutions and ideas. He ended up photographing an object no one else wanted and contributed five poems. He integrated music and technology and got his kids and grandkids to contribute, along with several other writers. Even as his lungs deteriorated, he breathed air into the project.
Though Kearney died in March, he is an undeniable part of the show.
"If I could dedicate this show to anyone, it would be him," Rod said.
IF YOU GO:
WHAT: "Inflation Celebration"
WHEN: Reception 5 to 7 p.m. Friday, May 11
WHERE: Third Street Gallery, Moscow City Hall, 206 E. Third St., Moscow
COST: Free
OF NOTE: Gallery hours are 8 a.m. to 5 p.m. weekdays. The exhibit is open now through June 5.