By Ruthie Prasil
If you're 30 years old or younger, you have likely heard the word "meme." If you're older than that, maybe not. It's cool, it's no big deal, no one's judging you, but we are here to help. Sometimes, it pays off to be 'in the know.'
A meme (pronounced "meem") is a photo that usually includes text. The meme gets shared over and over again online until it becomes so popular that most people will know exactly what you're talking about when you say, "Just like that evil Kermit meme." The same picture can be used with many variations of text and it's usually something relatable to most people or that most people would think was funny. If you want an actual definition of 'meme,' here you go: "...an amusing or interesting item (such as a captioned picture or video) or genre of items that is spread widely online especially through social media." (Merriam-Webster Dictionary)
Example:
C'mon, that's hilarious. How many times have you dropped a piece of ice on the floor and you think, "Meh, if I pick it up my hands will get wet so I'll just kick it where no one will see it?"
There are memes that use celebrity photos, memes that use poor quality photos from the 80s, memes that are only funny to some people (women, men, parents, sports fanatics, pop culture aficionados) and, the best memes of all, Joe Biden memes. That is strictly my own personal opinion, but I'm pretty sure it's accurate.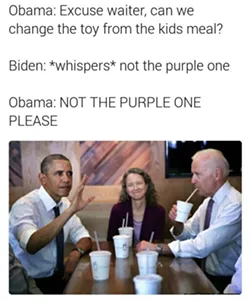 So now that you know what a meme is, we have a challenge for you, our already or newly hip and cool readers of Inland 360: create your own meme! Use the photo below and add your own text, relating it to where we live. (Ex: the Southway and Snake River Avenue roundabout, University of Idaho or Washington State University, a local eatery, etc.) Don't be malicious, don't use bad language, and have fun.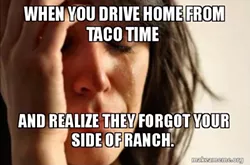 Give us your best meme for the photo at the bottom of this page and we'll pick our favorite to run in a future print edition of Inland 360. Enter your words as a comment below. Be sure to enter a valid email address when you register to comment so we can get in touch with you should we select you as the winner.