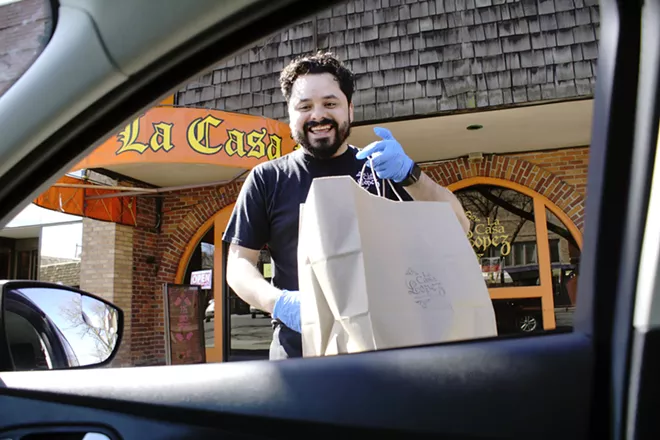 It's not business as usual anymore.
That's especially true for the restaurant industry, which has taken a hard hit during the COVID-19 pandemic. On March 15, Washington Gov. Jay Inslee announced all restaurants and bars must close by noon, March 17. In Idaho, Gov. Brad Little has reserved that measure for harder-hit counties, but last Friday, Moscow's Mayor Bill Lambert ordered restaurants and bars to close to dine-in customers until May 5.
Even without such measures, people aren't going out. For many, it's not worth the risk, either to themselves or the community.
It's been an unprecedented week and a half in the restaurant industry and many are making changes aimed at serving their customers, supporting public safety and staying financially afloat.
Quick adaptations reveal industry of "fighters"
"It's been a long week, and we've taken everything day by day," said Alex Barham, owner of Lodgepole in Moscow.
From the beginning, the restaurant was committed to offering what it could and quickly put together a plan to offer call-in and online ordering, along with curbside pick-up and delivery to Moscow and Pullman. The staff implemented the process prior to the restaurant shutdown, so things were running smoothly by the weekend.
"I can't give enough props to our staff," Barham said. "They adapted incredibly well."
Just as compelling is seeing how they've adapted their schedules to help each other out: Those who don't rely on the income or have other financial safety nets are giving their hours to those that need them.
Barham was impressed with how quickly area restaurants responded to the changes. Granted, it's a "do or die situation" Barham said, but it shows that the local restaurant industry is "full of fighters." And they're backed by a supportive community.
"The community in Moscow is what pulled us to the area in the first place," Barham said. "They've done a good job of supporting everyone."
Lodgepole's online menu is similar to the restaurant's sit-down offerings, with the addition of a couple lunch menu items and dropping of items that don't travel well. Wine and beer are available by the bottle or can. A popular option has been package deals for two that offer main dish, salad or vegetable and a bottle of wine or dessert. It's a "slice of comfort," Barham said, providing something normal during a not-normal time.
Moving online
Happy Day Restaurants in Lewiston is offering dine-in services as allowed by the each state, as well as take-out or delivery, said Pat Rogers, vice president of operations. Tomato Bros. and Taco Time in Clarkston are for take-out or delivery only.
Happy Day began offering online ordering early last week at Tomato Bros., Zany's, Southway Pizzeria & Deli, Mystic Cafe, Main St. Grill and Happy Day Catering. Arby's and Taco Time in Lewiston have online ordering available through Mad Dash Delivery. Currently, the full menu is available. Happy Day catering is offering family style meals that serve 4-8 people.
South Fork Public House in Pullman, also responded to the sudden change in operations quickly and had online ordering in place by the time restaurants were to close last week. This included whittling down the menu to feature items that aren't as perishable, said manager Jake Sauer. The restaurant recently added a featured family-style meal that serves 4-6 people.
The adjustment was quick, but not without pain. Sauer described how difficult it was to let most of the staff go until more work becomes available: Managing a restaurant in this new environment is one thing; having to lay off valued employees whom you know rely on the income only adds to the difficulty.
Devoted customers keep things running
Thanks to Washington's restaurant and bar closure, Skate Pierce, owner of Hogan's Pub in Clarkston, has gotten his first day off in months. It followed an intense week of 14-hour days, adjusting to the imposed changes.
The closure began on one of the venue's biggest days of the year: St. Patrick's Day. Hogan's is the closest thing to an Irish pub in the area, Pierce said, and they'd already ordered eight briskets for corned beef. The staff quickly adapted to a take-out model they'd never done before.
Response was overwhelming. They started selling at 5 p.m., and by 6:30 all they had left was some stew. The rest of the week went equally well. The pub pared down its menu to items that can be made easily, and it's had as much business as ever.
"The phone's been ringing like crazy," Pierce said.
Some pick up orders and enjoy it in the parking lot. Pierce described two women who come every Thursday for a couple of beers and dinner. Last Thursday, the only difference was they sat in their car for the evening instead of inside.
Between take-out purchases and gift cards, Pierce feels confident Hogan's will weather the storm. He's even had a couple regulars mail in a check to help out, which Pierce said he'd split and pass on to employees who may be harder hit by the changes.
"Our gratitude is very deep to our customers," he said. "It's been really humbling. It's good to see the grace people are extending to each other."
Being proactive about the health of the community
Even though eateries in Lewiston weren't required to close, some are doing so proactively, like Blue Lantern Coffee. The business isn't serving drinks for now, but is making baked and retail items available for curbside pick-up on Mondays, Wednesdays and Fridays.
Items made in-store include scones, bread, granola and chicken noodle soup, as supplies are available. Blue Lantern Coffee also offers local eggs and cheese, coffee, honey and elderberry syrup kits that support immune health. But with just these items, business is slow.
"I make such a slim margin as it is, I live day by day," said owner Dawn Abbott. "Now I have maybe a tenth of what I normally make."
When Abbott realized she needed to close temporarily for the health of the community, her immediate reaction was to close permanently and sell all her equipment. But a few people convinced her to hang on and see how things went. So for now, she relies on retail sales, gift cards and even donations to pay things like rent and utilities.
"A lot of regulars just want it to stay open," Abbott said.
As difficult as the situation is, Abbott already sees the potential for good. She wonders if the experience will instill a "heightened sense of fragility" in society that might be good for us. And the changes have gotten her to make better decisions as a business owner -- like the addition of a website, which she'd intended to do for a while.
"I just didn't anticipate I'd do it overnight," Abbott said.
The changes have also brought new joy into her days.
"Financial concerns aside, I love my new schedule," Abbott said, laughing.
As a business owner, the shop takes up her whole life, and working just three days a week, she now has time to play with her toddler and get work done around the house.
"I feel like I have a life again," Abbott said.
Profits vs. stopping the bleed
Maialina Pizzeria Napoletana and Sangria Grille in Moscow both closed earlier last week, prior to the order from Moscow's city council.
"We did it for the health and safety of our guests, for the people that work for us and for our community at large," said George Skandalos, co-owner of both restaurants.
As a result, the restaurants moved to offering take-out meals from a slightly trimmed-down menu, available online. They've cut things like steak and seafood, which don't hold up as well over time, along with dishes that are prep-heavy.
"Pizza and pasta travels beautifully," Skandalos said, and salads are another good pick.
The community has been supportive, he said, but this past week has been brutal.
"This isn't a way to make a profit, we just want to keep as many people as possible working," Skandalos said.
Right now, being open isn't about making money, it's about minimizing loss while still paying workers, he said. One recent night, sales totalled $489; labor costs were $500 -- not including other costs. The restaurants lost money that night, but less than they would have with no sales.
The staff is working as a team. Some have voluntarily stopped working to give more work to those that need it. Others are being laid off, and Skandalos is working with them to file unemployment. Meals are being offered to employees to help minimize the financial hit. Skandalos is looking to employ people as long and as much as possible, even if it means doing other types of work, like helping to remodel the lounge.
He also has been gathering support from other Idaho restaurant owners to petition Little to close all the state's restaurants. Skandalos believes early closure measures will save lives. Of the more than 50 people he's talked to in the past week, restaurant owners have a shared concern.
"Everybody says the same thing: 'What's going to happen to our people?' " he said.
Restaurants aren't just businesses, they're family; and Skandalos is fighting for his.
How to "eat out" at your favorite restaurant



Check with your favorite restaurant to see if and when it's open.

Even if it's open, many have adjusted business hours. Call or check online for updates.



Order online or over the phone.

Many restaurants are offering online ordering. Others have online menus, even if orders are available only by phone.



There may be additional costs.

An increasing number of restaurants are beginning to offer delivery service, some for free and others for an additional charge. Most are providing take-out orders at no added cost. Ask if you're unsure.



Don't want to eat out? Consider buying a gift card.

Many restaurants are offering discounts for gift cards. These function as microloans that enable owners to pay expenses like rent and utility bills. Donations also are welcome during this time.