By Tara Roberts
for Inland 360
Six small, white graves sit in a row, tucked under the leaves of a lilac hedge in the Wild Rose Cemetery overlooking Kendrick. In the center, a larger white stone carries the surname Whybark and the phrase "Our babies."
Of the six infants and children buried in that row, three died in 1919 -- George, Nellie and Royal.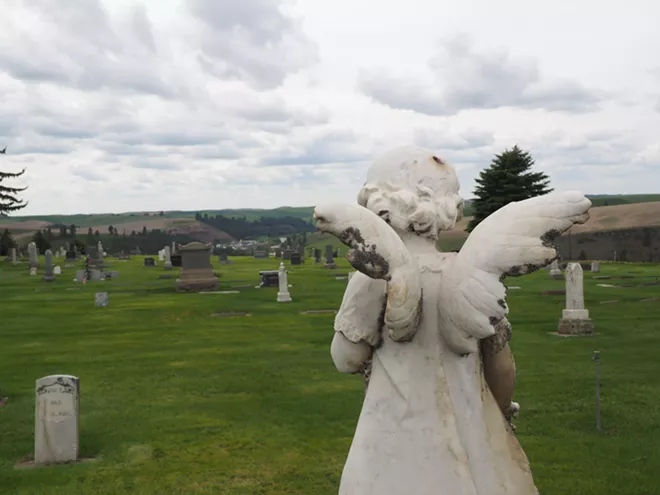 An 1919 article from the Idaho Post shared on the website Find a Grave reports at least two of the little Whybarks died when pandemic influenza swept through the Kendrick area 101 years ago.
The early summer morning my mom and I visited the Whybark graves and others at Wild Rose seemed perfect, all sunshine and blue sky and panoramic views of the Potlatch River Valley. It was easy to forget we were in the middle of a pandemic, too -- one that, though it has hit our little corner of the world less harshly than others, also has left terrible scars and stories behind.
But the pandemic was the reason we were there in the first place.
On Memorial Day weekend, Mom and I were itching to get out of town and decided to drive from Moscow to the Potlatch Cemetery to visit the graves of my great grandparents and great aunts and uncles. We meant to stay a moment, but the headstones scattered across the hillside kept capturing our attention.
After weeks of isolation and stress, wandering the cemetery was comforting. It was quiet, green and empty. Though we hadn't left the Palouse in months, noting the names and dates on the stones and imagining what their lives might have been like in 1892 or 1915 or 1937 gave us a new appreciation for the familiar landscape and community.
Seeing the sadder stories -- the graves of babies and young parents, the families swept away within days or months -- was a reminder that many times have been difficult; many people have struggled, mourned and persevered.
We kept reflecting as we drove back to Moscow. Can we become cemetery-visiting people? we wondered. Is that a thing?
It turns out it is -- and the Palouse is abundant with cemeteries, ripe with beauty, history and memory.
Latah County is home to 39 known cemeteries, and Whitman County has around 60. They are clusters of graves among wheat fields and on ridge tops, well-kept gardens on the edges of familiar towns, remnants of the 19th century settlers who brought rural cemetery traditions with them.
Dulce Kersting-Lark, executive director of the Latah County Historical Society, recommends keeping an important fact in mind when visiting a cemetery: The people buried there aren't characters from history. They were real people with lives and families.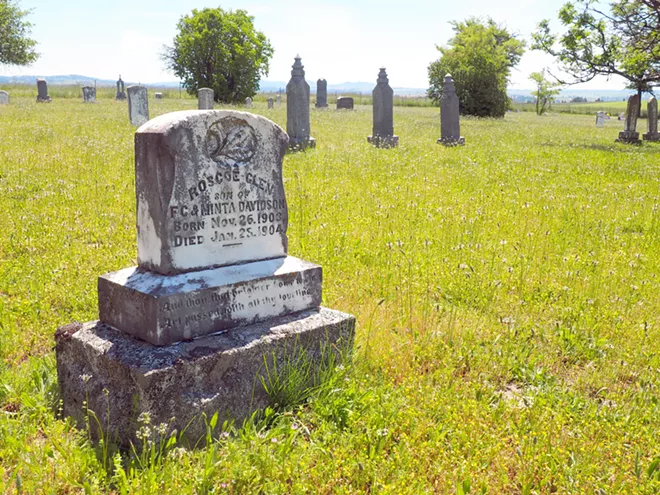 "No matter how old the gravestone looks, that person had a meaningful existence," she said.
Cemeteries can give visitors a sense of continuity, Kersting-Lark said. Large families might have generations of graves together. Some stones note places of birth, demonstrating the contributions of immigrants on the Palouse. Cemeteries in areas where people no longer live show how the Palouse has consolidated as it's grown.
"They are a physical reminder that our communities used to be many more in number and very small in size," Kersting-Lark said.
Ed Garretson, a retired Washington State University history professor who volunteers with the Whitman County Historical Society, said he enjoys finding interesting inscriptions and symbols on graves.
Some represent fraternal organizations that provided burial services among their membership benefits. For example, Garretson said, the Pullman IOOF Cemetery on West Main Street contains graves belonging to Odd Fellows members (whose stones may be marked with the letters IOOF or three links of chain) and a Woodmen of the World monument. Visitors can spot Woodmen members in cemeteries throughout the region by looking for axe or tree stump symbols.
Visitors might find their own history in local cemeteries, too. Monica Bartlett Peters, the corresponding secretary and research chair for the Whitman County Genealogical Society, suggested checking headstones near family graves to find unknown connections, such as a first or second spouse or a child who died young.
Bartlett Peters -- who walked every Whitman County cemetery in the early 2000s to transcribe headstones and update records -- also recommended contacting local genealogical researchers to learn more about family ties. Researchers can tap into historical materials and offer expertise and accuracy beyond what a visitor can find online, she said.
Maintaining cemeteries is an important part of preserving history, Bartlett Peters said.
"It was not uncommon back years ago to have the cemetery records reside in someone's home, like when they had a sextant, and the home would burn down or flood and there went all the records," she said. "It is your history. Once those stones are gone, sometimes that's the only record."
Visiting cemeteries helps ensure the people who lived through that history remain meaningful to the people who live here now, as my mom and I have discovered.
"Many of these cemeteries don't get a lot of visitors," Kersting-Lark said. "If you can be respectful when you go, I think it's a really lovely sentiment to go and visit these places and consider what these folks brought to our communities."
Expert Tips for a Respectful Cemetery Visit



Follow any posted rules.


Be gentle. Don't touch stones that appear fragile.


Before you clean or make rubbings of stones, research what materials to use and avoid.


Don't move anything around.


Avoid bringing dogs -- at the very least, keep them leashed.


If you have to cross private land to enter a cemetery, get the land owner's permission.


Be careful not to damage native plants, especially in rural cemeteries.


Want to Learn More?