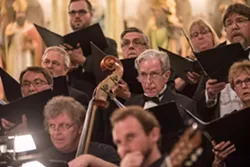 Every Christmas tradition has a starting point, a moment when the idea is entirely new and different. Handel's "Messiah" is no exception; portions of the work will be performed by the Palouse Choral Society tomorrow and Sunday at St. Boniface Catholic Church in Uniontown.
First performed in 1742 during the Lenten season before Easter, Handel's "Messiah" has migrated over the years to an association with Christmas. In 1791, it became part of an annual Christmas performance by the Caecilian Society in London and in 1818, the Boston Handel and Haydn Society began performing it during the Christmas season.
"It just kind of spread from there," said Michael Murphy, artistic and music director of the Palouse Choral Society.
The two-hour oratorio is now regularly heard during the holiday season all over the world.
"For some people, it's just not the Christmas season until they've heard a selection from Handel's 'Messiah,'" said Murphy.
The concerts will also debut the Palouse Choral Society Children's Choir, directed by Claire Murphy. The children's choir, made up of 25 students, has been part of Murphy vision since his arrival in 2009 and he is "ecstatic" that it is now a reality.
Positive feedback from last year's Christmas concert, which featured other children's choirs, confirmed that was the direction they should move. The addition will "change the dynamic in such a positive way," Murphy said, anticipating benefit both to the community and to the children that participate.
The Palouse Choral Society chorale includes around 80 adults and chamber choir includes 20. Rehearsals for the Christmas concert began in November, which is possible only because most participants have past experience singing "Messiah." The piece is difficult to perform well, said Murphy, noting the melismas -- multiple notes in one syllable -- that take time to ensure they are articulated well.
"It's so well known that people have an expectation of the performance level," said Murphy. "We want to honor the work itself and also capture the imagination of the listener."
Besides nearly an hour of highlights from "Messiah," the concert will feature arrangements of several other Christmas songs, including a "wonderful and lush lullaby" by modern composer Abby Betiniz and a cowboy carol.
St. Boniface has been the traditional location for the choir's annual Christmas concert. Though they don't perform "The Messiah" every year, Murphy said it is more typical of a place Handel would've performed. But there's more to the setting than authenticity: it's a place people enjoy and associate with the season.
"The concert provides an opportunity to get into the Christmas spirit by being in that space," said Murphy. IF YOU GO:
WHAT: Palouse Choral Society Christmas Concert
WHEN: 7:30 p.m. Friday and 4 p.m. Sunday
WHERE: St. Boniface Catholic Church at 206 S. St. Boniface St. in Uniontown
COST: $15/adults, $8/students, FREE/children 12 and under, $48/block of 4 tickets. Purchase advance tickets at www.palousechoralsociety.org. Tickets may be available at the door; check website for ticket availability.