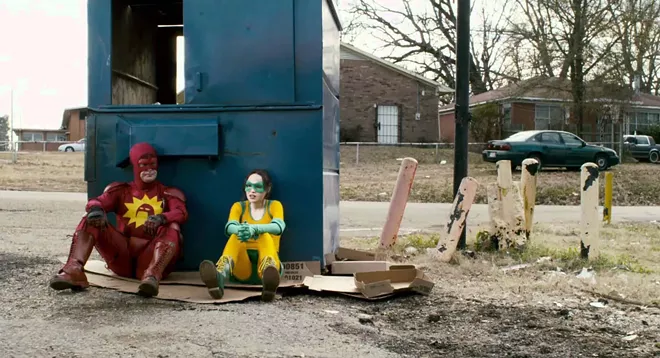 By Kaylee Brewster
If you haven't noticed, superhero movies are quite popular -- especially with Marvel and DC creating shared universes of crossover films and characters.
But not all superhero movies are under the Marvel/DC umbrella. If you're looking to quench your superhero thirst from someone other than these two giants, you can start with these picks.
"Griff the Invisible"
An Australian superhero film unlike any other you have ever seen. Griff is a normal paper pusher at a large company, but by night he fights crime using his superpowers … or at least that's what he thinks. This film beautifully blurs the line between reality and imagination, connecting the two with a heart-warming love story.
"Super"
Before James Gunn directed "Guardians of the Galaxy" for Marvel he wrote and directed "Super," the story of a man (Rainn Wilson) who becomes a superhero after his wife leaves. It's not a film for everybody, but if you're searching for that odd blend of violence and humor, "Super" might fit your style.
"The Incredibles"
You've probably heard of this one if you're a fan of Pixar, but it's a perfect film that can't be excluded. Family man Robert Parr (voiced by Craig T. Nelson) wants back in the superhero game and causes problems for his superpowered family as well as the rest of the world.
"Megamind"
If you've ever wondered what would happen if Lex Luthor won against Superman, "Megamind" gives you a rough idea. After Megamind (voiced by Will Ferrell) defeats his nemesis he discovers life has no meaning and must create a new superhero to fight, which ends up being a bad plan. Along with being funny, it cleverly thwarts superhero stereotypes.
"Hellboy"
Based off the character from Dark Horse comics, Hellboy is a demon-turned-good-guy who fights against evil. There are two films ("Hellboy" and "Hellboy II: The Golden Army") to check out directed by Guillermo del Torro. Both feature fascinating visuals and villains.
"The Rocketeer"
Before Iron Man buzzed around in a flying metal suit, the Rocketeer did. Set in the days before World War II, "The Rocketeer" is a fun period-piece superhero flick filled with Nazis, Hollywood and Howard Hughes.
"Sky High"
The premise is sort of a Hogwarts meets X-men, where kids with superpowers are taken to Sky High and sorted into hero or sidekick roles. Will Stronghold (Michael Angarano) is the son of Jetstream (Kelly Preston) and the Commander (Kurt Russell), two of the best superheroes of all time, and he has a lot of live up to as she starts his first year at Sky High. Family-friendly and predictable, but you won't forget this super school.
Brewster is a graduate of Lewiston High School and Lewis-Clark State College who is earning her master's degree in film and television studies at the University of Glasgow. She can be reached at kaylee.brewster@hotmail.com.