By JENNIFER K. BAUER jkbauer@inland360.com
In China the autumn winds are called the killing winds because they tear down the remains of summer. In the U.S., thoughts also turn to death and many mark the season with a taste of terror.
Here's a list of some regional scare events with a handy scare-o-meter to rate their potential to make you scream.
The Haunted Space Expedition at Cougar Entertainment Center, Pullman
Take a tour through a haunted spaceship in this attraction created by the group known for creating haunts from 2003-11 for Moose Manor in Pullman. In a cross between "Alien" and "Predator," people will be plunged into a galactic fight between humans and aliens, encounter the infected crew, demented ship members and view doctors conducting dubious experiments.
"We warn you ahead of time this will not be acceptable for children and will be an immersive environment using light, fog and sound effects," according to a statement on the event website that suggests it is appropriate for ages 12 and older.
Ticket sales start at 8 p.m. with tours starting at 9 Friday and Saturday and Oct. 30-31. Ticket sales end at 11:30 p.m. Admission is $8 each night except Oct. 31 when it is $9, not including tax. Bring two non-perishable food items and receive $1 off ticket prices. The arena is at 1234 S. Grand Ave.
The Lewiston Roundup Scare Grounds The new Lewiston Roundup Scare Grounds event is a smorgasbord of thrills with "the freaks that haunt your nightmares" and a concert by Stephen Pearcy, the voice of Ratt, who may be in your nightmares depending on your taste in '80s music.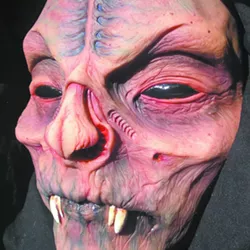 The evening starts with a 15-20 minute scare tour. Enter through the Tent of Terror for close encounters with zombies, witches and other ghouls stalking visitors through a room devoted to dolls, a haunted sideshow and other disturbing imagery.
The tour ends at the outdoor arena with games, a beer garden and concessions for sale. The ghost of Janis Joplin will be performing in the Ketch Pen. At 7 p.m. local bands will open the concert featuring Pearcy, the original lead singer for Ratt, who takes the stage at 11 p.m.
Seattle promoter Joe Gingerella said the event will have a circus-like feel and that there are no age restrictions but it is probably appropriate for children age 10 and older.
"It's scary but not vile scary," Gingerella said.
Jon Rode, a professional haunt artist who lives in Clarkston, is helping design the tour. Rode makes monsters for B horror movies and helped design the former Nightmare on Grelle Avenue.
Attendees are also able to buy tickets to camp at the Roundup Grounds where they will be visited in the night by ghouls.
The event is from 6 p.m. to midnight Friday and Saturday. Tickets are $15 in advance or $20 at the gate. Tickets are $5 for children age 10 and younger. Camping tickets are $100 for a tent site for four and four tickets to the Scaregrounds. People who wish to take the scare tour a second time can buy a ticket for half price. Concert-only tickets are $15 at the box office each night. Tickets:www.lewistonscaregrounds.com
Hells Gate State Park annual Haunted Hayride, Lewiston
Hells Gate State Park is bringing back its Haunted Hayride featuring rides through the park with stops at spooky scenes set up at about 20 different campsites. Gates open at 6 p.m. Saturday, with rides through the park starting shortly after and generally going until 10 p.m.
Billed as a family friendly event for those with young children, activities include a campfire, hot cocoa and other refreshments for sale in the day-use area. Attendees will park in the marina lot and be bused to the day-use area. The park will be using additional, longer trailers for rides in order to eliminate long lines experienced at past events.
Park entrance is free with your Idaho State Parks Passport or $5 per vehicle. There is a $1 admission charge per person for the hayride which runs from 6-10 p.m. Saturday.
14th annual Haunted Palouse
Palouse goes all out for its annual haunt strictly for those ages 12 and older. From 7 to 10 p.m. Friday and Saturday and Oct. 30-31 chilling attractions will dot the streets and people can tour two buildings set with nightmarish scenes. A Haunted Hay Ride will roll through town and Freaky Food Vendors will peddle hairy scary hamburgers, witch cider potions and sickly sweet treats.
Tickets are $15 cash only. Sales close at 10 p.m. Tickets are sold in the drive-through area of the Palouse branch of Banner Bank, 150 N. Bridge St.