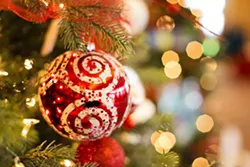 For holiday activities, both traditional and new, in the community or at home, here are a handful of ideas for Memories to Make this week. Full details can be found in the Calendar section.
Sing along to some holiday music. The annual Christmas Concert Benefit for Interlink includes several sing-along numbers and is from 3:30 p.m.-5 p.m. Sunday at the Clarkston High School Auditorium. The benefit concert for Interlink features local artists including Clearwater Pipes & Drums, Chad Bramlet, Amy Baker Stout, Frances Hasenoehrl, Ben Bross Tenor Group and more. Tickets are $10/person or $30/four tickets and can be purchased at the Interlink office, at P1FCU locations, online at www.interlinkvolunteers.org and at the door.
Call or Skype a long-distance friend or family member. Consider taking time this week to connect with someone far away. It's OK if you only have a few minutes, a short conversation is often better than none at all.
Hang out with Santa Claus. The jolly gift-bearer is appearing at numerous locations in the region, including Christmas With Santa from noon-5 p.m. Saturday at the Clarkston Heights Grange. Digital photos will be provided. While you're there, enjoy hot cocoa and cookies and check out the model trains and miniature holiday houses on display through the Lewis-Clark Train Club. The event is free of charge.
Do some last-minute local shopping. The Pullman Winter Market is open from 2-6 p.m. inside Mantis Martial Arts in Pullman and the Clearwater River Casino Holiday Bazaar is from 8 a.m.-3 p.m. at the Clearwater River Casino Event Center.
Listen to holiday music and color. Pull out some crayons, markers or colored pencils and turn on your favorite holiday album or radio station and get to coloring, starting with Color me Posh in the calendar section.
Watch "It's a Wonderful Life." Watch it at home or come out for the annual showing 7 p.m. today through Sunday at the Kenworthy Performing Arts Centre in Moscow. Tickets are $6/adults, $3/children 12 and under; bring a canned-food item to get $1 off the ticket price.
Make a luminaria. Luminarias are simple paper-bag lanterns often used to line pathways during the holidays. To make a basic luminaria, open a paper bag -- you may decorate or cut out designs in the bag ahead of time -- and fold over the top inch to help provide stability. Then fill it with two cups of sand or pea gravel, nestle a tea-light candle inside and place your luminaria where there is no danger of fire. Use a long-reach lighter or match to light the candle. Find more ideas and tips online.