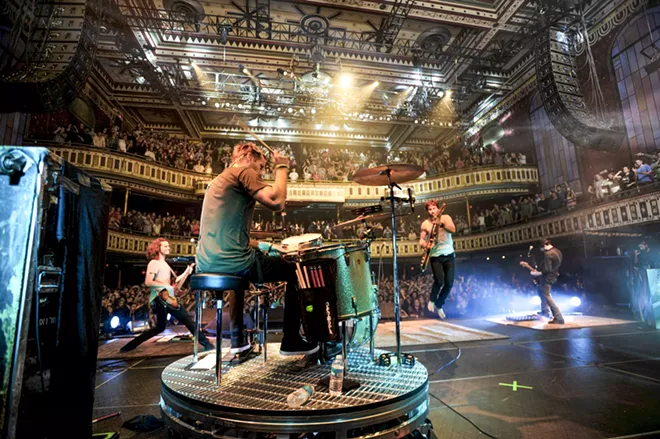 The University of Idaho's new ICCU Arena isn't only home to Vandal athletics: This weekend it will be a house of rock.
Third Eye Blind, known for its mix of post-grunge and pop/rock style, is set to perform the multipurpose facility's first concert at 7:30 p.m. Friday. The alt-rock band had its first hit in 1997 with its single "Semi-Charmed Life."
The timing of the concert was intended to coincide with Family Weekend at the school, said John Kosh, marketing director for auxiliary services, which includes the arena. The band was chosen for its appeal to youth as well as those who grew up in the '90s.


Musical comedian Kristin Key, known for incorporating guitar playing in her act, will open.
Third Eye Blind will be able to show off the arena's sound system, which has all the bells and whistles of a modern venue, Kosh said. Also for the first time, beer and wine will be sold with concessions at the arena, with some from local breweries and wineries.
"We got a new toy to play with, and it's an amazing, gorgeous one," he said.
To create a concert venue in the arena, some seating is moved and the stage is set up in the west section. The arrangement slightly reduces capacity, but Kosh said general admission seating — and an area for standing — is set up on the basketball court to accomodate for the numbers. And the smaller space allows for a closer view of the performers.


"The ICCU is a destination arena," Kosh said. "It's a destination venue."
He praised the team working to prepare the arena for the concert.
"There are so many things that come together thanks to hard work and wonderful people," he said.
The staff at the ICCU arena is the same that works the Kibbie Dome, a facility built in the 70s, so there was a lot to learn with the new technology.
"If you've got a conception of a concert in the Kibbie, you can just throw it away," Kosh said.
As far as what's next, Kosh isn't revealing his secrets just yet, but there are going to be some big acts heading to the venue in the coming year.
"It's gonna be here for 50 to 60 years, and this is just the beginning," he said.
IF YOU GO
WHAT: Third Eye Blind concert.
WHEN: 7:30 p.m., Friday (Nov. 5).
WHERE: ICCU Arena, University of Idaho, 525 W Third St. Moscow.
COST: Adults $55-75; $20 game day discount; $5 bleacher seats for UI students. Tickets can be purchased at bit.ly/3bxtY9Q.