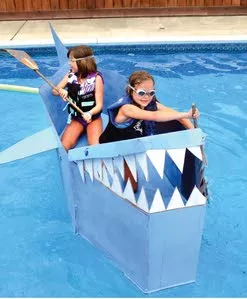 Commentary by Michelle Schmidt
LEWISTON — With the Lewiston-Clarkston Valley Cardboard Boat Regatta coming up, building a cardboard boat seemed simple enough: Just get a big box and wrap it in duct tape, right? How hard could that be?
But it turns out I'm not the first slacker to consider the idea. The rules for constructing a regatta boat keep clever use of certain materials to a minimum, which means wrapping the boat in duct tape — as well as a few other waterproofing shortcuts — is out.
This means you've got to build your boat the hard way. But I promise you: If I can build a boat, anyone can build a boat.
Whether it's a lazy-girl's shark, like mine, or a well-crafted speedboat, give yourself several hours over the course of a week to get it done. Even with free cardboard from a local appliance store (or from purchasing a huge item online) budget around $40 for supplies: the cost of wood glue, caulk, paint and/or polyurethane finish and tape add up quickly. Here's what is involved: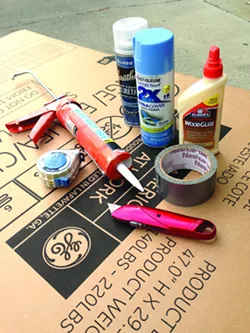 Step 1: Design and cut
There are three contest categories in the regatta: Best in Show (with awards for construction, decor and design), an obstacle course race and a Last Man Standing competition. You can compete in any or all of them, but base your design on the category you want to win.
I decided to go with a shark. Mostly because it seemed easy, but also because it might scare away all the competition, which is the only way I'd win any races. Consider using two to three layers of cardboard in the hull of your boat and use folds to cover cut edges: As soon as water touches the two thin pieces that sandwich the corrugated board, they will soften and begin to separate. Don't forget to read the contest rules as you design.
You'll find water displacement calculations online to determine the right size of your boat. I sort of skipped that part. But had I not, I would've learned that my 20-inch sides and 30-inch width were a little on the excessive side given the two little girls my shark-boat was intended to carry. Once you have your plan, it's time to cut the cardboard. Failing to carefully draw out your design on the cardboard ahead of time will result in an adorable wonky look — wouldn't want my shark to be too scary, right?
Step 2: Seal and paint
Sealing your cardboard isn't required, but since there's no First Boat to Sink contest, it's a good idea. I used both polyurethane and ordinary outdoor paint and had I applied the recommended three coats, instead of one, maybe it would've worked even better.
Rolling paint will give you better coverage, but being in a hurry, I went with spray paint. It turned out to not be the best idea for covering vast amounts of cardboard. I almost went back to the store to find something to hold the spray button down for me. But then I pictured the look when asking for such an item and decided to tough it out. That's when inspiration hit to use duct tape to hold it down; Idahoan ingenuity at its finest.
Steps 3 & 4: Assemble and caulk
Coat the overlapping pieces in wood glue and use a clamp — or, in my case, blocks for a future yard project — to hold them together. And then go away. Had I done so and allowed the glue to dry, I might not have needed to apply the shark fins so many times.
Duct tape is allowed on the seams and joints of the boat, but that doesn't mean it's your best choice for assembling or sealing the vessel. Paint seems to be duct tape's Kryptonite; it lost its power when touching the slightest bit of paint. Instead, join pieces by gluing a cardboard patch over them.
Once the boat is fully assembled and dry, seal the edges and seams with a single-part caulk. Just know that caulk is no substitute for good construction. I pretended that my sloppy edges and gaps could be fixed with caulk, but the water wasn't so easily fooled.
Steps 5 & 6: Paint and decorate
After the boat is fully assembled and the caulk is dry, it's time to touch up the paint and apply any additional decorations.
Step 7: Float (or sink)
Your boat's maiden voyage will also likely be its last. When we released our shark into the open waters, the most impressive thing it did was float, which is what your boat will do even if you are lazier than me. But time is not on your side; once things go bad, they go bad fast. It wasn't five minutes after launching that we were pulling a soggy shark mess out of the pool. Those five minutes were filled with everything from surprise to joy to fear to laughter — and finally a swim.
if you go WHAT: Lewiston-Clarkston Valley Cardboard Boat Regatta WHEN: 6:30 p.m. June 29 WHERE: Orchards Pool, 1301 Airway Ave., Lewiston COST: $30/entry. All entries must be registered by Friday; forms are available at Lewiston Parks and Recreation office, Asotin County Family Aquatic Center and online at www.cityoflewiston.org/DocumentCenter/View/7287. Participants will receive additional details and boat constructions tips upon registering.
REQUIREMENTS: All crew members must be 8 years and older, wear a life jacket and be able to swim. Participants younger than 18 must have parent permission and those younger than 11 must be accompanied by an adult at all times. Participants in the Last Man Standing contest must be at least 11 years old. Schmidt can be contacted at themichelleschmidt@gmail.com or at (208) 305-4578.