By JENNIFER K. BAUER inland360.com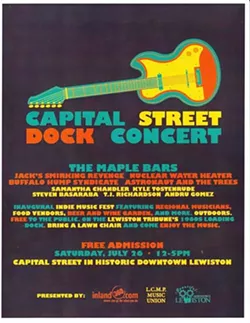 LEWISTON — Since its arrival on doorsteps and news stands on April 12, 2012, Inland 360 has aimed to be the region's go-to source for events happening weekly in our corner of the Inland Northwest. On Saturday, July 24, 2014 the magazine leaps into the fray by sponsoring the inaugural Capital Street Dock Concert with the Lewiston-Clarkston Moscow-Pullman Music Union and Beautiful Downtown Lewiston.
From noon to 5 p.m. Capital Street will be closed to traffic and a slate of indie musicians will rock the old outdoor loading dock at the Lewiston Tribune in a free concert with a beer garden and food vendors.
"At the beginning, I always envisioned Inland 360 being the connection point for art, music, theater and culture," says Editor and Publisher Nathan Alford. "Music is important in this town. There's so much talent we should be a part of showcasing that."
As a Lewiston native and member of the band 7 Devils, Alford is part of the valley's live music scene, which has deep roots downtown.
"I think of the history of Main Street with 20-plus bars back in the day, all with live music, keeping that tradition alive and well is important," Alford says.
Lewiston musician Kyle Tostenrude lined up acts for the festival, including headliners the Maple Bars. Tostenrude is the founder of the L.C.M.P. Music Union, a musicians' collective working to build the region's music scene. Tostenrude moved to Lewiston from Spokane four years ago and started the collective last November as a way to unite area musicians. Whether they play original music or covers, all musicians and bands are welcome. Members of the group meet monthly to discuss what they've been doing and how to promote each others' projects. Between meetings they stay connected through social media.
"We want our scene but it's about being part of the community first and foremost," says Tostenrude, a singer, guitar player and member of the band Our Roots are Eternal. One of the biggest challenges area musicians face is finding affordable venues for all-ages concerts, Tostenrude says. Young people are a key part of a music scene because they have the time, passion and energy to support it.
"We are trying to give kids something more to do that is positive and remedy the view of how people see live shows around here. I hope we can make it a tool to help strengthen the community," he says.
People can connect to the collective via its Facebook page at L.C.M.P. Music Union. Information about shows can be sent to arts@inland360.com. The deadline is noon Monday for Thursday's edition.
Inland 360 is also a founding partner in the valley's first mud run, the LC Valley Down and Dirty, set for Aug. 23 at Lewiston Community Park. The race will span 3.1 miles of obstacles and mud. More information is available at www.lcvdownanddirty.com. What: Capital Street Dock Concert When: Noon to 5 p.m. Saturday, July 24 Where: 505 Capital St., Lewiston Cost: Free Of Note: People are advised to bring chairs for seating. A beer and wine garden will be open for those 21 and older.
The lineup:
The Maple Bars (progressive rock) Jack's Smirking Revenge (rock) Nuclear Water Heater (indie rock) Buffalo Hump Syndicate (bluegrass) Astronaut and the Trees (indie rock)
Solo Artists Samantha Chandler Kyle Tostenrude Steven Basaraba T.J. Richardson Andru Gomez
——— Bauer may be contacted at jkbauer@inland360.com or (208) 848-2263.