Commentary
By Will Thompson
For Inland 360
For the average listener, a song or album is an affair measured in minutes. For musicians, producing a song or album worthy of being tolerated by an audience is an affair measured in much larger units. If put to a dollars-per-hour scale, the work a musician puts in is on par with collecting cans on the side of the road. For such wages, many folks with a guitar in a spare room prefer to flip on the television.
The Lewiston-Clarkston Valley band the Maple Bars is far from content with another rerun, and recently released its second album, "Freshly Baked." Much has changed in the five years since the band's debut album. Once a trio, the band's new album features a four-piece. Mason McCroskey (vocals, guitar, keys) is the only original member left since the band's inception in 2007. The band is on its third bass player.
"We lost Austin to love. He fell in love, moved to Denver, and we kept the last song he wrote in the band and named it "FAM" (short for "F--- Austin Moody")," said McCroskey of the band's original bassist. "He is loved and missed."
Moody's stage presence with the band was a force, both playful and antagonistic -- a crucial component to the Maple Bars' creativity and live performance.
There would soon be more shoes to fill.
"Trenton had a job that kept him working graveyard on weekends, with a wife and a kid to take care of on top of that. ... I made the executive decision to ask Trenton to step down as drummer. It was not a light decision on my part," said McCroskey.
This left McCroskey to rebuild the band from scratch -- and to say he spared no expense on (ahem) ingredients, is accurate. Locally speaking, the Maple Bars are now a bit of a supergroup. The latest lineup consists of bassist Nathan Golla and lead guitarist Laki Ah-Hi. Golla is the longtime guitarist and vocalist for Lewiston metal outfit the Khind and owner/operator of Khind of Records recording studio. Bill Wilcox, who is no longer with the band, drummed on "Freshly Baked" and played at a number of live shows. Wilcox performed with numerous local outfits, including the Polecats and the Simon Tucker Group. Ah-Hi is a longtime bandmate of Wilcox's, from his days in the Killroys and Paper Bullet, both of the Lewiston-Clarkston Valley.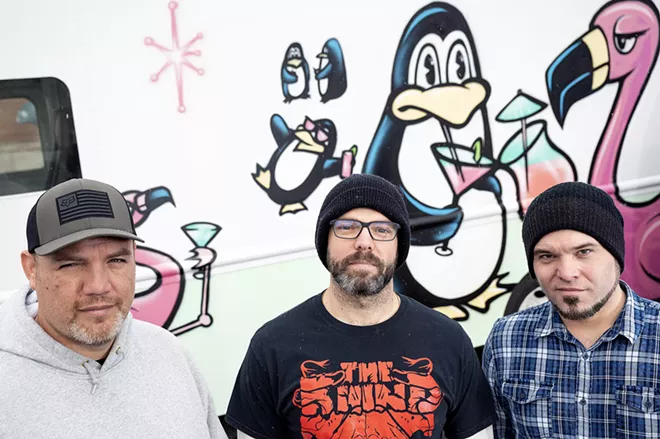 "I used to bring a song to the band with the structure completely finished and rarely documented well. My lack of (musical) vocabulary, and not being able to direct (the band), stunted the songwriting process," McCroskey said.
The band now uses Google Drive and a streaming service called Subsonic to streamline songwriting.
"I like to use more technology in the songwriting process, and it seems to have brought more efficiency and confidence to our songwriting."
McCroskey is sharing songwriting duties now, too. On "Freshly Baked," Ah-hi wrote both "Yellow Clouds" and "Sitting Rock."
"It has really helped to have another songwriter bringing fresh ideas to the band. ...'Yellow Clouds' is the hit of the album," McCroskey said.
https://www.youtube.com/watch?v=A3LEJfrUXgo&feature=youtu.be
With its big, singalong chorus, it's easy to see why McCroskey speaks highly of Ah-Hi's collaborative works.
Once McCroskey assembled the new lineup and played a number of live shows in the region, the Maple Bars began recording "Freshly Baked" in Golla's Khind of Records studio, the same studio where the band's first album, "David Daniel Crocker," was recorded.
"Crocker" was an incredibly ambitious affair, even for a more seasoned act. It was a concept album that chronicled the 1970s-era exploits of its namesake, a L-C Valley figure known to many as "the guy who works at Hogan's Pub and plays with a yo-yo." Crocker lived in Las Vegas in the '70's and had run-ins with an Arab prince, hard drugs, organized crime and Elvis. It's an album that does both the man and his tales justice.
That album featured more of an early-Northwest, psychedelic feel, with jammy nods to regional lineage in the hard-hitting delivery of musical forefathers like the Wailers and the Sonics. Modern heaviness imbues the Maple Bars' sound, in the vein of Queens of the Stone Age.
These days, the sound is still intense, but it's a more measured affair. It's less likely to hop out and grab you by the shirt collar and more likely to catch your ear through an arrangement built up through three or four minutes of carefully arranged passages.
"Freshly Baked" is more like a traditional rock album, with no overarching concept or narrative thread. It's the kind of album that would feel at home in the post-grunge '90s boom, when bands that had thoroughly digested the '60s and early '70s classic rock canon began speaking their own language. As with other bands from this era, there's a carefree attitude to the influences found here, but not in the songwriting. If anything, this album feels intentional, even during its improvisational moments.
Live, they're undoubtedly still a force to be reckoned with. While former bassist Moody's antics can't be replicated, the Maple Bars have attained a cohesiveness and musicianship many bands never achieve.
https://www.youtube.com/watch?v=gUWorCJF3nU&feature=youtu.be
CDs are for sale at Greenfield Glass and Goods in Clarkston. Both "Freshly Baked" and "David Daniel Crocker" are available for streaming on most platforms and the band's website at www.maplebarsband.com.
Thompson enjoys putting somewhat carefully chosen words in relatively meaningful order. He has been to college. He lives in Lewiston and can be reached at lcvrecordswap@gmail.com and on Instagram at @theswap_quadcities.