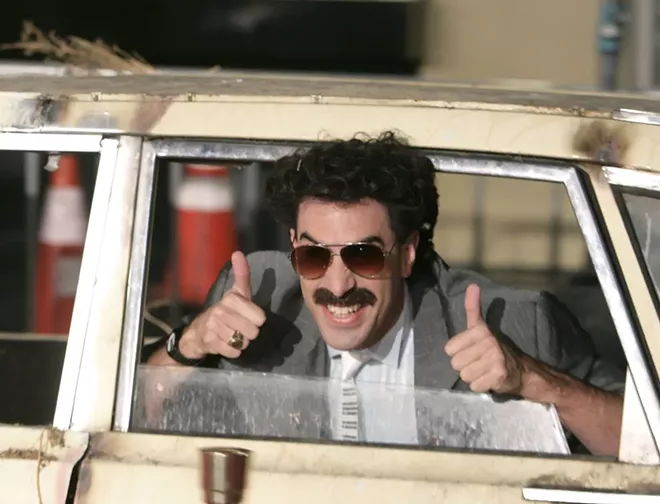 When it comes to showing people a different perspective on life, comedy has the superpower of the sneak attack.
"The most dangerous people in society can change your mind without you knowing it is changed," explained writer and director Ted Tremper.
Tremper, a Washington State University graduate, won't take credit for those words. He doesn't recall who first said them, but this nugget of wisdom has guided his work on projects like Comedy Central's satirical news program "The Daily Show with Trevor Noah," "I Love You, America!" with Sarah Silverman on Hulu and the coming sequel to the film "Borat," being released Friday on Amazon Prime.
Tremper will discuss sociopolitical comedy when he returns virtually to WSU at 5 p.m. Tuesday as a guest speaker for the Common Reading Program. This year's book, "Born a Crime: Stories from a South African Childhood," is by Noah, a world-famous comedian who took over as the star of "The Daily Show" in 2015.
Tremper, a Seattle native now living in Los Angeles, graduated from WSU in 2004 with a bachelor's degree in English and minors in film studies and professional writing. At WSU, he was a member of the Nuthouse improvisational comedy troupe, an experience he built on in Chicago, where he spent two years with the legendary comedy group Second City. In 2015, he landed a dream job behind the scenes at "The Daily Show." He and Noah started on the same day.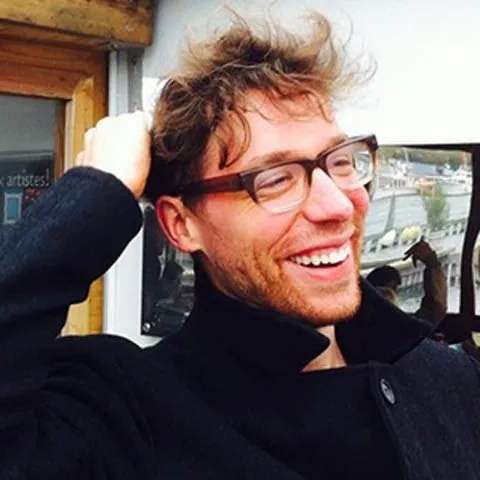 "Trevor, he's the most phenomenal person; he's exactly how you see him on the show," Tremper said. "He's the most open, loving, charismatic, welcoming and brilliant person I've ever worked with. He really brings out the best in people."
Tremper was hired as a field producer to pitch ideas and help write and direct field pieces, a term used to describe work done outside the studio setting. Noah would decide which pitches to pursue.
Tremper spoke from his car Monday as he and his girlfriend drove through northern California, headed home after retrieving a side of beef from his father's Oregon ranch. He was with the "The Daily Show" during the lead-up to the 2016 election, a contentious time with moments that still haunt him, but his experiences there taught him about comedy's power to transform viewpoints.
"The things I think are really great are when you can go a level deeper and find things even more absurd about (a situation)," he said about his style.
In the "Daily Show" sketch he's most proud of, titled "The Ban the Box Campaign," actor Hasan Minhaj played a fearful reporter investigating a movement to change how people report being convicted of a crime while applying for a job.
At the time, people applying for a job were required to check a box on their initial application stating whether or not they had ever been convicted of a crime, Tremper said. Studies showed that checking the box led to a 90 percent rate of not getting a job interview. This disproportionately affected people of color, he said. However, studies also showed that if a job interview took place before an employer learned a person was once convicted of a crime, the individual was more likely to get the job.
In the sketch, Minhaj acts terrified of criminals while interviewing real-life people who once committed crimes but who were now gainfully employed.
"Shortly after the piece (aired), the Obama administration signed an order eliminating the box from federal contractor jobs. We heard, through the grapevine, it was a direct result of reaction to that piece," Tremper said.
As part of his work with "The Daily Show," Tremper traveled to the 2016 Republican and Democratic National Conventions in Cleveland and Philadelphia, where he witnessed incidents of extreme polarization that the nation continues to grapple with today.
At the Republican National Convention, he anticipated "rabid enthusiasm," but things took a dark turn when the crowd joined in a chant of "lock her up," referring to Democratic candidate Hillary Clinton.
"I felt that if Hilary Clinton was there, they would have torn her apart. I have never been in a room with so much vitriol in my life, and never want to be again."
But it was after the Democratic National Convention that he began to worry.
"It was odd, because I think we had been more or less sure Trump was going to lose," he said.
"At the Democratic National Convention, there was a complete lack of enthusiasm for Clinton as a candidate. The only enthusiastic people were Bernie Sanders supporters," he said, people who somehow still thought there was a chance Sanders could become president. "There were far more protestors at the DNC than the RNC. At the DNC people were marching in the streets. That's what made me worry."
Tremper left "The Daily Show" before the election when another network unexpectedly picked up a project he'd worked on previously. However, after the election, he became depressed "for a variety of reasons" and took a year-long break.
"I felt very conflicted," he said. "On the one hand, 'The Daily Show' impeccably fact checks work. In 20 years on air, it's only had something like one retraction, I believe."
On the other hand, "I felt a lot of fear that the way that Trump supporters had been satirized only served to create more polarity. The biggest fear that I have, not only for this election but for our country in general with social media polarizing us more and more, is that at a certain point we'll tear each other apart from the edges."
In the four years since, there's been no shortage of political events for comedians to make fun of, Tremper said. He illustrates this thought with a Sept. 30 tweet by his Twitter-famous friend Zach Bornstein: "Remember when Trump committed an impeachable offense five days ago, and now that's not even a story, and you don't even know which one I'm talking about."
"The problem," Tremper said, "is that I don't think the U.S. has ever seen anything like this presidency."
Which brings to mind something George Orwell once said: "Every joke is a tiny revolution."
"There's something to be said for mocking authoritarian dictators, or presidents who act like authoritarians, but at a certain point someone has to wonder how to use the tool of comedy to bring people together, rather than entrench them deeper in their own belief," Tremper said.
That's something he's been asking himself lately.
His work with Silverman on "I Love You, America!" reflected his desire to bring people back together. That was the purpose of that show, he said.
"I'm a son of a Republican dad and a Democrat mom. Political identity hasn't always been a cult of personality. I would very much like for us to return to a time when people can have discussions about things and have their perspectives changed or informed by others."
The sequel to Sacha Baron Cohen's 2006 mockumentary hit comedy "Borat" comes out Friday on Amazon Prime. Tremper worked as a field supervisor on the film and hasn't yet seen the finished project. He said he was minimally involved and is sworn to secrecy.
"I couldn't even tell my agent I was working on it," he said.
As in the first film, Baron Cohen stars as Borat Sagdiyev, a fictitious Kazakh journalist who travels through the United States making a documentary which features real-life interactions with Americans. The sequel is titled, "The Borat Subsequent Moviefilm: Delivery of Prodigious Bribe to American Regime for Make Benefit Once Glorious Nation of Kazakhstan."
https://www.youtube.com/watch?v=JvPTCvUnNQA
Tremper calls Cohen, "a once-in-a-generation genius" in what he does. "You could write a book about the way his operation works."
On his first day in the production office for the sequel, a poster in the room with a quote by David Lean explained the creative process in a way Tremper can relate to, "Good films can be made only by a crew of dedicated maniacs."
IF YOU GO
WHAT: Award-winning writer and director Ted Tremper.
WHEN: 5 p.m. Tuesday, Oct. 27.
WHERE: To register for the online talk visit commonreading.wsu.edu/ted-tremper-talk.
OF NOTE: Tremper's appearance is part of WSU's Common Reading Program focused on the book, "Born a Crime: Stories from a South African Childhood," by Trevor Noah. Tremper and Noah worked together on Comedy Central's "The Daily Show with Trevor Noah." The discussion will be moderated by Karen Weathermon, the program's director, and Buddy Levy, WSU English professor.