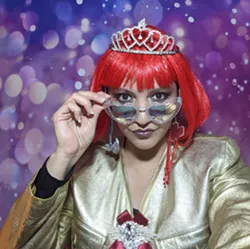 Alice deals with a pandemic in Lewis-Clark State College's weekend production of the classic tale "Alice in Wonderland."
The LCSC Theatre Program will present "Alice in Wonderland: A Virtual Theatre Experience," live online at 7:30 tonight, Wednesday, Thursday, Friday and Saturday on the Lewis-Clark State College Theatre YouTube channel. Shows are free.
Based on the novel by Lewis Carroll, the story is adapted and directed by Jef Petersen, an LCSC humanities instructor, and Christina Brandt, a professional director and educator. The Alice in this adventure is quarantined because of COVID-19, but the story takes an unexpected virtual ride down the rabbit hole.
Actors perform in multiple roles. Among them, LCSC student Roland Wilson Weaskus plays the Cheshire Cat and Tweedle Dum. Guest artist Sarah Hennessey plays the Queen of Hearts, Jabberwocky and Walrus. Hennessey is an LCSC alumnus who is now an actor and writer living outside Philadelphia, Penn. Al Hawley, an LCSC alumnus and community actor, plays Flamingo and Caterpillar.