Three years ago, Kyle Henderson settled down in Utah after a three-month tour with folk singer Joshua James. Henderson got married, got a job as a business analyst and, frankly, got bored.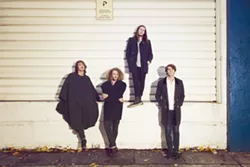 "
I kind of went crazy a little bit," Henderson said. "I left my marriage and left my job ... I left everything behind."
Bassist Tyler Osmond, guitarist Patrick Boyer and drummer Brennan Allen all quit their jobs, too, to join Henderson on tour, as the band Desert Noises.
Now three years later, Henderson's wife has let him back into her life, and instead of working as an analyst, Henderson plays music full-time with the Orem, Utah, band in preparation for their album "27 Ways" out March 25.
Desert Noises will perform at 9:30 p.m. Wednesday at Mikey's Gyros in Moscow.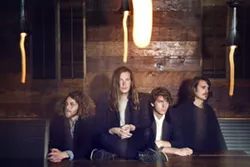 The young band, ranging in age from 22 to 24, just signed to SQE Music and recorded "27 Ways" in El Paso, Texas. The four have gigs booked from February to May in cities in Oregon, Washington, California, Maryland and Alabama.
"The van's our home," Henderson said. "We're so used to being on tour that home is really weird."
While Henderson said the bandmates listen to a lot of older music, it's too hard to pin down what they sound like. Boyer listens to blues. Osmond is into R&B and funk. Allen listened to a lot of psychedelic music growing up. Henderson said he's into folk music and indie rock.
The group played at the Austin City Limits Music Festival last October as did The Cure, Depeche Mode, Muse and Kings of Leon.
"It was just everybody," Henderson said. "All these bands that I'm in love with, and looked up to growing up. We got to meet a bunch of new bands, too."
Desert Noises will join the bands Aan and The Kitchen at Mikey's on Wednesday. Tickets for all three are $7.
Treffry can be reached at (208) 883-4640 or ltreffry@inland360.com. Follow her on Twitter @LindseyTreffry.
->if you go: WHAT: Desert Noises, Aan and The Kitchen perform WHEN: 9:30 p.m. Wednesday. Doors open at 9 p.m. WHERE: Mikey's Gyros, 527 S. Main St., Moscow. COST: $7 through Stereopathic Presents at eventbrite.com with $1.38 fee.