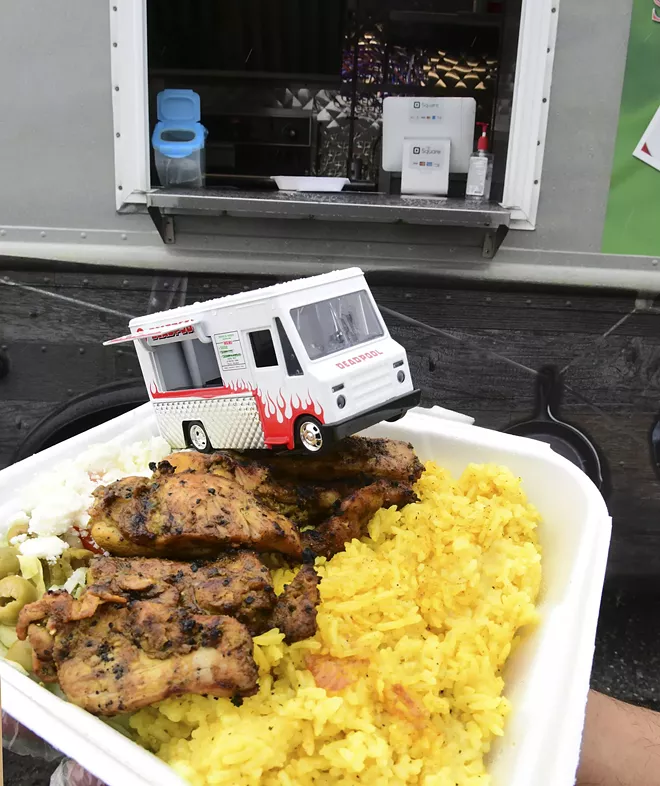 At 5 p.m. on the first Tuesday in May, the Nez Perce County Fairgrounds opened for Lewiston's first-ever Food Truck Night. What happened next shocked everyone.
People flooded through the gates to graze from about a dozen food and drink vendors set up in trucks and tents. Lines quickly grew from 10 to 20 to 40 or more people deep. Some stood in line shoulder-to-shoulder for an hour before reaching the front, only to be told that hardly any food remained. And that was only the first hour of a planned four-hour event. Hungry and bored children were crying. Adults were shaking fists. It was closer to a scene from an overcrowded refugee camp than a weeknight community gathering.
Organizers gave up counting after 5,100 people came through the gates, according to a story about the feeding frenzy that ran later that week in the Lewiston Tribune. Event organizer Jason Phillips was blindsided. He told the Tribune it had taken him four years to get 4,000 people to a food truck night he organized in Walla Walla.
Word is that other restaurants in town did very well because hundreds of people left seeking a fall-back plan for dinner.
Are the people of the Lewiston-Clarkston Valley that hungry? Do they really like to eat out? Are they starving for novelty and variety?
Street food has been around for centuries, and food trucks are its latest evolution. Several factors explain their rise in popularity.
Mobile vendors are appealing because they often (but not always) sell food at lower prices than restaurants since they don't have the overhead costs of a building with multiple waitstaff. They usually offer quick service, catering to people on the go who want something fresher and more authentic than fast-food chains typically offer. Social media is a main driver behind the rise of the food truck scene nationwide. It's a valuable tool owners use to connect with customers to let them know where they'll be at that day and whet their appetite with foodie photos.
Food truck events and food truck parks, where multiple vendors gather in one place at one time, have become popular across the country and are a win-win on both sides of the counter. People come hungry expecting to find something for every taste, while vendors expose menus to new customers ready to fork out the dough.
Lewiston Food Truck Night returns Tuesday with promises on social media that improvements will be made, including shorter lines for food, more space between vendors and more lines for beer. It's scheduled for the first Tuesday of each month through September. Future dates are July 2, Aug. 6 and Sept. 3.
IF YOU GO
WHAT: Lewiston Food Truck Night
WHEN: 5 to 9 p.m. Tuesday, June 4
WHERE: Nez Perce County Fairgrounds, Lewiston
OF NOTE: The La Grande, Ore., country band Steven K. and the Bounty Hunters will perform.