Lewiston native Katherine Strohmaier will again star in "A Christmas Show: 'Tis the Season for Family," with the Travolta sisters at the Coeur d'Alene Resort this holiday season.
The annual performance features Ellen Travolta, her sister Margaret Travolta and Ellen's husband, actor Jack Bannon, presenting family stories, skits and music. This is the fourth year of the performance and the second time Strohmaier has appeared.
The cabaret-style show changes each year, said Ellen Travolta, the eldest of the six Travolta siblings, most of whom became performers.
Strohmaier will present a salute to children's Christmas music at this year's show, among other things, Travolta said.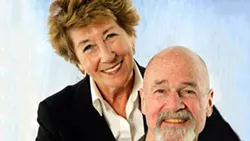 "She is just a treasure. She's a wonderful actor and singer. I feel so fortunate to have her," Travolta said.
The Travolta sisters share stories from their Irish-Italian childhood in New Jersey in the holiday performance. While their brother John is likely the best-known family member, Ellen made her name in TV series like "Happy Days," "Welcome Back Kotter," and "Charles in Charge." Her husband appeared on "Lou Grant" and dozens of other TV shows. Margaret has appeared in films such as "High Fidelity," "Ocean's Thirteen" and TV shows including "NYPD Blue" and "ER." She and her sister retired to Coeur d'Alene to join other family members in the area, she said.
Strohmaier lives in Seattle and is flying back and forth in preparation for the show, which will be staged at the resort Nov. 25 through Dec. 18 at 7:30 p.m. Thursdays, Fridays and Saturdays and 5 p.m. Sundays. It is directed by Troy Nickerson and also stars Scott Steed. Tickets are $27.50 and can be purchased by calling the resort at (866) 835-3025 or online at cdachristmas.com.
You can read more about Strohmaier in a 2014 interview with Inland 360.