Updated 4/17: This year's winners are Mister Handshake, the Joseph Hein Band and Landrace. The three bands will open concerts at this summer's Rendezvous in the Park. Check out their music below.
MOSCOW -- Battle of the bands showcases are kind of like a paper grab bag with a big question mark. Rip it open and there could be something really great -- or you might just want to throw it away.
Saturday, April 15, at the all-ages Rendezvous in the Park Music & Arts Festival Showcase, area bands will compete for the chance to be opening acts at Moscow's annual summer music festival set for July 13-15. Competitors are vetted by festival board members in advance so chances are there's something worth discovering. The festival has a long history of featuring the best of the best. People at the 2002 festival might agree. A little-known Moscow musician named Josh Ritter was hired to perform. Just four years later Paste magazine named him one of the Greatest Living Songwriters.
Six bands will compete Saturday for three opening slots. Admission includes two tokens for voting. The audience will select two favorites and the Rendezvous Board of Directors will select a third.
Here's the six to take the stage.
Landrace
Formed in early 2016, this Pullman band features Eric Molina on saxophone and lead vocals (English and Spanish), Andrew Dodge on lead guitar, Jade Denny on bass, Keenan Wright on drums, PJ Kelley on trombone, and Pablo Rivarola and Jacob Schuler on trumpets. All are students studying music at Washington State University. Their focus is positive music and high entertainment. Find their music at Bandcamp.
Joseph Hein Band
Multi-instrumentalist Joseph Hein grew up on the eastern Washington Palouse influenced by AM country and R&B classics. Instruments like trombone, keyboards, violin and guitars appear in the sometimes energetic, sometimes dreamy music he's continued to hone in Olympia. He's working on his third album. Besides Hein on guitar, the band features Bill Tracy on drums, Zack Degler on bass, Nevada Sowle on keyboard and Zachary Calkins on organ.
Free Range Children
The Free Range Children is a family band that moved to Moscow from Pennsylvania less than a year ago. Playing together since they were very young the trio includes Aila, age 13, vocals; Asher, age 14, guitar; and Jules, age 14, percussion, bass and ukulele.
https://www.youtube.com/watch?v=S0oXOh_7wwY
Natalie Greenfield
Moscow's Natalie Greenfield became passionate about music at age 6 when she began piano lessons, but a recording of the late Eva Cassidy singing "Somewhere Over the Rainbow" convinced her to turn to her voice. Greenfield was heavily influenced by jazz music she was exposed to as a teen at her parents' coffeehouse. At the University of Idaho Lionel Hampton Jazz Festival in 2003 she met world-renowned vocalist Dee Daniels who became her vocal coach. Under Daniels' guidance as producer, Greenfield released her first album, "Natalie Rose," in 2005 featuring performances from some of Canada's top jazz musicians. Recently her inclinations have turned toward R&B and soul.
https://www.youtube.com/watch?v=5zdx674Neq8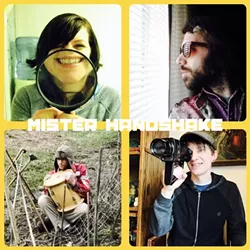 Mister Handshake
Formed in 2015, Mister Handshake is a Moscow garage band comprised of Matt Zook on drums; Josh Miller, lead guitar and vocals; Emily Fallin, bass guitar; and Christopher Farnes, rhythm guitar and vocals. Influenced by psychedelic rock and bands like the Breeders, Brian Jones Town Massacre, Ween, Animal Collective, Radiohead and the Hives, the group's focus is creating an organic sound through open collaboration. You can hear them on Soundcloud.
Genius in Remission
Having spent the last year revising their sound, Genius in Remission has landed firmly in classic rock 'n' roll
territory with a modern twist they aim at a multigenerational audience. The twist is influenced by jazz, grunge, western, punk and hard rock. The Moscow quartet includes Xris Hogan, vocals; Brandon Farr, guitar; Ron Rasco, bass; and Tim Gregory, drums.
If You Go What: Rendezvous in the Park Music & Arts Festival Showcase
When: 7 p.m. Saturday, April 15, doors open at 6:30
Where: Kenworthy Performing Arts Centre, 508 S. Main St., Moscow
Cost: $10 general admission, $5 students at the door
Of Note: Local beer and wine will be for sale along with concessions.