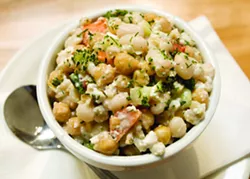 By MICHELLE SCHMIDT INLAND360.COM
There's a new bean in town: Meet Pedrosillano, the little garbanzo bean that is appearing on menus throughout the region.
This is not your grandma's garbanzo. It might be a stretch to call any bean "hip," but the Pedrosillano has a growing number of fans. The locally grown garbanzo is small, but what it lacks in size, it makes up for in nutty flavor and creamy texture. Its versatile culinary qualities — combined with local sourcing — were exactly what chefs at local restaurants were looking for.
The Moscow Food Co-op uses the Pedrosillano, a non-genetically modified strain, in a variety of foods, including their three hummus recipes. The bean also appears in various dishes throughout the year, including a customer favorite, the sturdy Indian Tomato Paneer Stew, which is often available in the fall and winter.
"We switched to the Pedrosillano bean less than a year ago because, although it tends to be smaller than other beans, it holds its shape and skin better in soups and hot food, and it has a creamy texture in spreads such as hummus," said Ryan Phill, kitchen buyer for the Moscow Food Co-op in an email.
That creamy texture — thanks in part to a slightly higher fat content — means hummus is where the Pedrosillano shines.
"This bean is nicknamed 'The Hummus Bean,'" said Kim Davidson, who markets the bean locally through Davidson Commodities. "There are hummus makers that go bonkers for that bean, hummus makers from around the world."
Birch and Barley in Pullman features the bean not only in their hummus, but in a Crunchy Vegetable Salad, which is becoming a popular substitute for french fries. The colorful cold salad includes beans, cucumbers, carrots, cottage cheese, herbs and vinegar.
"The salad has really taken off," said owner Shelly Clark. Customers are sometimes skeptical of the ingredient blend, but with a little encouragement — and sometimes a sample — they're quickly won over.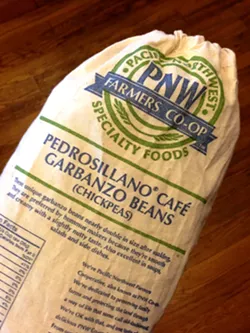 At the Maialina Pizzeria Napoletana in Moscow, known more for its pizza than its bean dishes, the bean plays the lead role in the house soup. Pedrosillanos are cooked alongside onions until the beans will break when pressed gently against the roof of the mouth. Two additional ingredients round out the soup, as it is drizzled with lemon juice and olive oil.
Sounds unique? Customers thought so too, and were initially leery of the soup. But after trying it?
"It generally blows people away," said Ivan Saueracker, chef. "Now everyone knows what it is and knows to ask for it."
Garbanzos are nothing new to Nick Pitsilionis, owner of the Black Cypress in Pullman. Growing up in Greece, he ate them — albeit, the traditional, larger variety — every week in a garbanzo-orzo dish. So it was only natural to incorporate them in restaurant dishes. Garbanzos appear regularly in summer salads and in richer, heartier sides during the winter.
Besides Pedrosillanos, Pitsilionis uses York garbanzos, which are closer to the variety he grew up with. The varieties are generally interchangeable, but he's noticed the special qualities of the Pedrosillano.
"They have a more savory quality, a more nutty flavor," said Pitsilionis. He says the richer beans seem to cook up to a similar size as conventional garbanzos and are especially suited for anything that's going to be pureed.
He insists the richer beans cook up to the same size as conventional garbanzos and finds them especially suited for anything that's going to be pureed. He says the skin of the bean breaks down and blends in more easily than the other varieties. Purees using other garbanzos often must be run through a sieve even after pureeing, but not purees made with the Pedrosillanos.
The Black Cypress purees the bean not only for hummus, but also in pasta sauces. Sauces gain a bit more substance when a portion of the ingredients, which often include the beans, are pureed and added back in.
Pedrosillanos, were introduced to the area nearly 20 years ago when Bill Newbry, chief executive of Pacific Northwest Famer's Cooperative, brought some back from Spain in hopes of local cultivation. After Jim Hermann, a Genesee-area farmer and friend of Newbry, grew the beans, local production was established and expanded.
Hermann humorously named them Billy Beans — after Newbry — which is how they are now known in the agriculture industry. PNW Co-op Specialty Foods switched to the classier name a couple years ago when Davidson Commodities began marketing the beans locally and nationally.
Restaurants featuring Pedrosillano Garbanzo Beans:
Birch and Barley 1360 Bishop Blvd., Pullman In Hummus & Crunchy Vegetable Salad
Maialina Pizzeria Napoletana 602 S. Main St., Moscow In Garbanzo Bean Soup
Moscow Food Co-op 121 E. Fifth St., Moscow In the always available: Traditional, Roasted Garlic & Roasted Red Pepper Hummus; plus seasonally available: CMasala, Indian Tomato Panneer Stew, Vegetable Paella, Ultimate Veggie Burgers, Morrocan Chickpea, Country Chickpea, Turkish Garbanzo Salad & Three Bean Salad
The Black Cypress 215 E. Main St., Pullman In seasonal salads, garbanzo and orzo, soups, dips, pastas
Vlad's Corner of Jackson and Sixth Streets, Moscow In Garbanzo Soup
Yes, even YOU can cook beans What's good in restaurants can also be good at home.
Pedrosillanos are available for purchase at Moscow Food Coop and Huckleberry's Market in the Moscow Rosauer's. The folks at Davidson Commodities say that if you can boil water, you can cook beans. Here's how in six easy steps:
1. Soak 'em. Put half amount of beans you want in a pot — they double in size once cooked. Cover the beans with water to twice the amount of beans: if your beans fill the pot an inch up, fill with water two inches up. Put the lid on and let it sit overnight. 2. Drain 'em. Now your beans are ready to be cooked. Lose the water, save the beans. 3. Cover 'em. Now add fresh water to cover the beans and then some — like a few extra inches. 4. Boil 'em. Put a lid on your pot, your pot on the stove and your stove to high heat. 5. Simmer 'em. Once the water has boiled, turn the heat down to low. Let your beans hang out there for around 90 minutes, or less, if you like a little crunch. 6. Eat 'em. Drain off the water and use them in your favorite hummus, salad, soup or snack recipe that calls for garbanzos. Or freeze them in smaller portions for quick later use.
Schmidt can be contacted at themichelleschmidt@gmail.com or at (208) 305-4578.