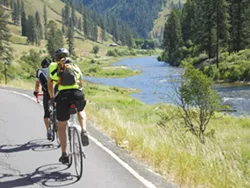 Jeff Smith doesn't own a vehicle.
It's not because he can't, he just chooses not to. When the Lewiston resident wants to get somewhere, he'll hop on his bike.
Winters can be tough, he admitted, and there are times he has to be creative. He had a meeting in the Lewiston Orchards recently, a good climb in elevation from where he works as a park ranger at Hells Gate State Park. He decided to ride to a bus stop, load his mountain bike on the available rack, head up the hill, get off at a stop and finish the ride to his destination. The return was faster and more direct -- riding his bike, he was back down to the park in just minutes.
"It's not easy to do that, but it's an option," Smith said.
Smith has been vehicle-free since 2012, so it makes sense that he'd be part of the Lewis Clark Bicycling Alliance. The group is an advisory committee that's working to make the valley a bike-friendly community.
"The time to make changes isn't when the guys are laying the asphalt," Smith said.
As such, the group works with government, schools, businesses and the community to promote walking and bicycling and to make safe bicycling improvements. Through expertise, research and outreach, the group has developed a Bicycle Master Plan, which primarily will be implemented as changes and upgrades are made to local roads for other reasons.
These changes help everyone. People complain about spending money on a bike lane that only one person uses, but Smith pointed out that bike-friendly improvements don't just benefit bicyclists -- they benefit the vehicles passing that bicyclist as well. Bicyclists have a right to be on the road, he said, so it's better for everyone if they've got a good space to do it.
"Incorporating all forms of transportation makes it safer and creates less friction for everyone," Smith said.
One of the goals of the group is to reduce gaps and barriers to local destinations like the bike trail along the river. There are 25 miles of paved trail there, Smith said, but people in the Orchards have a hard time accessing it by bike. The same can be true for those wishing to bicycle to work or school. The goal of the Bicycle Master Plan is to make it easier and safer for people to ride their bike to where they want to go.
Most people know bicycling is a fun activity and good for your health, Smith said, but not everyone realizes that there are economic benefits as well.
"You increase the value of the community by doing this," Smith said.
Those considering jobs in the area are looking at the recreational opportunities in the community, Smith said. In addition, bicycling options draw money-spending tourists, he said, whether they're people who are coming in on tour boats, camping or just coming for the day from colder places in the region.
"We're trying to educate people on opportunities and benefits of bicycling here," Smith said.
The group is promoting bicycling during Bike Month, with the hope that as people make contacts with other bicyclists and learn some new bicycling routes, they'll take advantage of what's already here and see the value of making the L-C Valley a good place to ride in the future.
Bike Month events in the Lewiston-Clarkston Valley
May is National Bike Month, and there's no better way to celebrate than to dig your wheels and helmet out of the garage and head out on a ride. To that end, the Lewis Clark Bicycling Alliance and Twin Rivers Cyclists are hosting rides for those who might not have experience or are new to the area and are looking for some good routes.
Twin Rivers Cyclists hosts weekly rides throughout the summer, as well as longer riding events. For details and more info on these and future events, visit twinrivercyclists.org/calendar.
Ride Events
Easy Does It - 10 a.m., Saturday - Corps Parking Lot, near Interstate Bridge in Clarkston
A 20-mile ride on green belt and local roads for newbies and laid-back riders
Drover's Run - 8 a.m. May 21 - Drover's Run at Jacques Spur, 2 miles north of Culdesac on Highway 95
A challenging 42-mile ride up Old Winchester Grade
Bite the Bullet Day Tour - 9 a.m. May 28 - Valley Family Foods, Lapwai
A challenging 70-mile ride up Old Winchester Grade, starting and finishing in Lapwai
Weekly Rides
Ice Cream Tuesdays - 6 p.m. - Baskin Robbins, Clarkston A social 20- to 30-mile ride at a leisurely pace, followed by ice cream at Baskin Robbins
Moscow Wednesday After-Work Rides - 6 p.m. Old Tidyman's parking lot
Rides in and around Moscow and Pullman
Time Trial Thursdays - 6 p.m. - 2 mile marker west of Red Wolf Bridge in Clarkston, on the Whitman County side of the Snake River
Time your 10-mile ride; see website for details.
Sunday Cycling Society - 1 p.m. - Southway Boat Launch
A 25-30 mile ride at group pace.
Follet's Mountain Bike Shop Road Rides
Group rides are hosted at times on Tuesdays and Thursdays, call Steve Dietz at (208) 743-4200 for information
Kids to Parks "Kids on Bikes" Ride - 10 a.m. May 20 - Hells Gate State Park Discovery Center
Kids can learn about bicycling safety and etiquette on a multi-use trail while riding with Smith from Hells Gate State Park to downtown Lewiston and back for a total of 8 miles. Parents are encouraged to attend and kids must bring their own bike, helmet and at least one water bottle. The event is free, but there is a $5 motor vehicle entry fee to the park. Participants are asked to register for this event by calling (208) 799-5015; non-registered participants may join if space is available. Kids to Parks Day is a national day that connects kids and families with local, state and national parks.