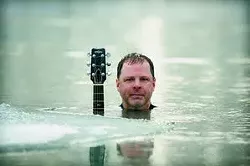 By MICHELLE SCHMIDT Inland360.com
Listening to Kray Van Kirk's acoustic folk music doesn't have to cost you anything. What's unique is not that his concert is by donation — which is standard for concerts at the Attic — it's that he makes his songs available for free download on his website.
No, the songs are not just free samples and they're not just song portions: Van Kirk makes all 20 of his recorded songs available for anyone to download in a variety of formats. It's not that the singer-songwriter wouldn't want to make his living off music — Van Kirk has an underlying philosophy as to why he wants his music to be available without cost.
"We're in a cycle where we value money over everything else," Van Kirk says. "But the very nature of human existence is not based on how much money you can get from it."
That means some things shouldn't be assigned monetary value. Love, for example, he says, becomes something different when you pay for it.
Van Kirk knows he doesn't get to change how culture uses money to place value on personal expression, but he does get to say he doesn't buy into it. Offering his songs for free is one way to say so and offering only downloads has the added benefit of keeping CD plastic out of landfills.
Van Kirk plays a bit of everything when it comes to folk. He explores stories, socially progressive themes and retells classic myths — that's what the new folk style is made of, he says. He writes his own songs, largely based on a hero or other stories.
"The songs are out there, they already exist, so you've got to be available to write them down," Van Kirk says.
Years ago, Van Kirk left graduate school to pursue the life of a musician, which meant living out of his van for five years while driving around the West Coast. But he found it wasn't a life well suited for a single parent. These days he lives in Alaska and makes a living analyzing fish statistics — he did go back to graduate school and got his doctorate in fisheries population dynamics. One weekend a month, he performs a series of shows at various places throughout the United States.
So when the musician lifestyle didn't work out, why didn't he just give up on his music? "I can't," Van Kirk answers.
It's not that he hasn't considered it, or even wanted to at times. It's just that he knows music is part of who he is. He chuckles and compares the situation to something that Calvin, of "Calvin and Hobbes," once said: "I must obey the inscrutable exhortations of my soul."
More about Van Kirk and downloads of his music can be found online at www.krayvankirk.com. if you go WHAT: Kray Van Kirk in concert WHEN: 7 p.m. Friday, May 16 WHERE: The Attic, 314 E. Second St. in Moscow COST: By freewill donation Schmidt can be contacted at themichelleschmidt@gmail.com or at (208) 305-4578.