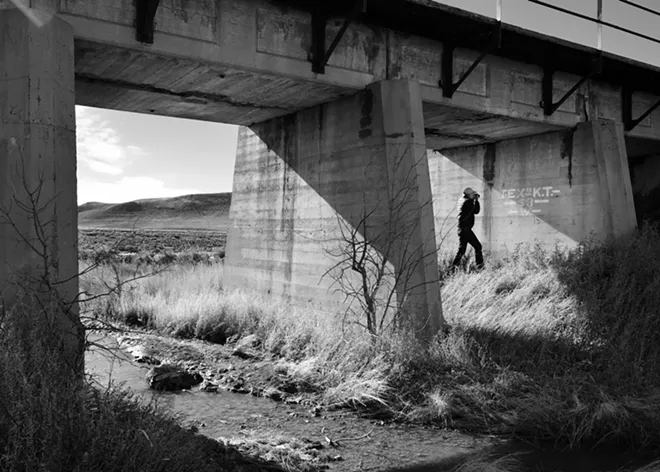 Graffiti is generally unwanted, but time has a way of changing that.
From the 1870s through the 1950s, hobos, or itinerant workers, hopped aboard trains and traveled the nation in search of seasonal jobs or better luck in the next town. While waiting around the railyard, some of them would mark their names on structures, often in inconspicuous places, using paint or pencil or by carving into wood.
Nearly 100 years later, these graffiti markings are the focus for the Historic Graffiti Society, which aims to discover, preserve and record them. Their photographs and research are on exhibit at the Historic WI&M Depot in Potlatch through Oct. 31.
Historic graffiti wasn't a lifelong interest for Mike and Charlie Wray, the father and son duo who founded the organization. They weren't even railroad buffs. Mike is a retired engineer who lives in Seattle and Charlie is a photographer and photo editor in Salt Lake City.
It all started as a Christmas gift. In 2009, Charlie was thinking about what to give "the dad who already has what he wants." He came up with the idea of taking a weeklong road trip together to explore ghost towns and abandoned buildings.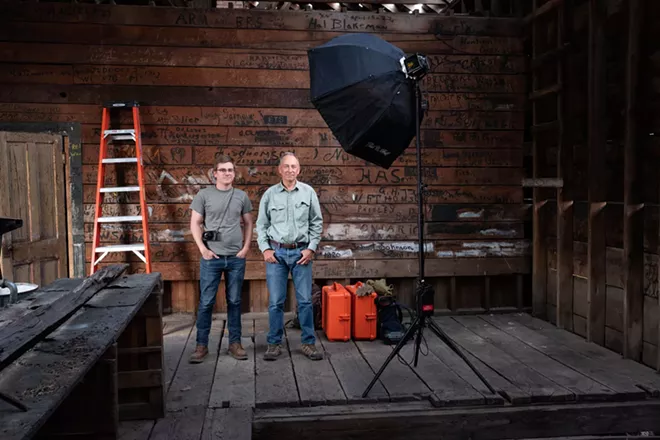 The wet climate of the Pacific Northwest leads to quick deterioration of many historic structures, but the two enjoyed their time enough that they took a trip every year in search of something new to explore. In 2011, markings on the wall of an abandoned mine piqued their interest in graffiti and by 2015 they'd discovered historic graffiti on railroad structures.
It was this graffiti -- left mainly by hobos who had traveled the rails -- that grabbed their attention and has kept it. Every year since, the two have spent a week and a handful of weekends traveling up and down the West Coast and along railroad routes through the northern half of the U.S., from Oregon, Washington and Idaho out to Minnesota and Iowa, in search of historic graffiti, with a focus on marks made during the Great Depression and earlier.
"It's pretty obscure," Mike said. "You walk right past if you're not tuned into it."
Historic graffiti tends to be small and unobtrusive, he said. When the two have located historic graffiti, property owners rarely knew it was there. They recently located a marking at train depot that had recently been converted into a winery. Almost everything had been replaced, and the owners hadn't noticed anything unusual, but Mike and Charlie quickly found a marking carved into a door frame -- one of the only remaining original structures.
Hobos would travel on a whim, Mike said, but there were also seasons and patterns to the movement. People would seek more temperate climates on the West Coast during the winter and move south to north as wheat and other crops were ready for harvest. Word would spread among those traveling about where to find work and what towns would be more welcoming to hobos.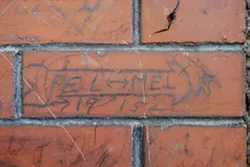 Many hobos would select a road name for themselves, often based on their given name, where they were from, physical characteristics -- or they'd pick something else entirely. They would mark this name, often along with the date and the direction of their travel, on walls and structures around the railroad. Sometimes this was just about announcing their presence, Mike said, but sometimes the messages communicated to others who were traveling.
For the Wrays, familiar characters have emerged over time. Two of the most common found on the rails belonged to two widely known hobos: A-No. 1 and "Tex" K.T.
A-No. 1, whose given name was Leon Ray Livingston, was a well-known hobo who began to travel the rails in 1883 at age 11. He left his moniker in thousands of places all over the U.S. He sought notoriety and published several books about his experiences, Mike said, though they're considered to be exaggerated.
"Tex" K.T. -- or "Tex" King of Tramps -- is believed to have begun traveling the rails in 1915 at about age 14. His given name is uncertain, Mike said, but he often gave the name of James or Jesse Wells when he was arrested for leaving his moniker on buildings.
The only recorded information about him comes from an article written after his arrest in Billings, Mont. It's not known if the information he provided was contrived for the sake of story -- hobos were known storytellers, Mike said -- but he claimed to have traveled around Europe and North and South America. The Wrays have documented around 100 of his marks, one of which is preserved at the Historic WI&M Depot in Potlatch.
The two agree that searching for historic graffiti is a bit like hunting for mushrooms. Even when you know what you're looking for, and the kind of place it's most likely to be found, there are no guarantees.
"We've gotten better at it," Charlie said.
That means if historic graffiti is there, the two have enough experience that they've got a good shot at finding it. But more than once, the two have ended up at a "perfect" location only to come up empty after two hours of searching.
Railroads offer advantages when it comes to preservation of historic graffiti.
"It's remarkable how much has changed and how little has changed," Charlie said.
Because long-distance travel has moved away from the railyard, many railroads and their depots have been abandoned. Structures that once stood around the railyard -- sheds, warehouses, water towers and the like -- have since been torn down.
And yet, since rail lines don't tend to move, in smaller towns where development hasn't demanded the removal of older buildings, it's not uncommon to find a train depot standing where it was built a century ago.
With more than 12,000 miles behind them, the Wrays have documented a wide range of historic graffiti, ranging from 1895 to the 1960s. It's a disappearing piece of history that they believe is worth archiving.
Eventually it made sense to establish the Historic Graffiti Society, in part to establish a focus for the Wrays' work, but also to lend it credibility. When seeking access to private property, Mike said, it's helpful to be associated with an organization.
When the two find historic graffiti, they thoroughly document their findings and often submit their work to a nearby historical society for its archives. These markings can be found in eastern Washington and northern Idaho, but in an effort to preserve them and deter excess visitors, the Wrays are careful to not disclose graffiti locations.
"It's easy to think if it's lasted this long, it's going to last indefinitely, but this isn't the case," Mike Wray said.
More than once, the two have documented the historic graffiti at a site, only to return a year or two later and find the markings were painted over or otherwise removed. The two have been finding and documenting the sites only for the past five years, so they know marks are disappearing all the time.
"We feel we're in a race against time," he said.
As more people become aware of historic graffiti, they're hopeful more locations will be protected, and that tipsters' leads will allow them to document more sites.
IF YOU GO
WHAT: "Mark of the Tramp" exhibit by the Historic Graffiti Society.
WHEN: 10 a.m. to 4 p.m., Thursdays through Saturdays through Oct. 31.
WHERE: Historic WI&M Depot, 185 Sixth St., Potlatch.
COST: Free.
Tips for finding historic graffiti
Railroads were a hub of historic hobo graffiti. Search for it at train depots and any surrounding buildings associated with railways like warehouses, barns and bridges. You're unlikely to find graffiti along the rails.
Look for graffiti on walls, doorways and in the men's restrooms. Historic graffiti rarely attracts attention; it's often modest, inobtrusive and done in pencil or faint scratchings.
Train depots in small, out of the way towns are most likely to have a train depot structure that has been preserved. Historic brick walls are another place to look; they can become the unofficial "town register."
Search for train depots along the primary historic routes. Many of the lines are no longer operational, but information about them and their locations can be found online. Many have been moved or converted into other types of buildings, including museums.
Some train depots are on public land but some are now privately owned. Get permission before looking for historic graffiti on private land.
Preserving historic graffiti
Don't add marks of your own. New graffiti may result in the entire surface -- both new and old graffiti -- being repainted. Even if your message is an attempt to deter vandalism or note the historical nature of the graffiti, the new mark visually compromises the historic context.
Keep historic graffiti in its original context; removing it ruins its value and meaning.
Preserve what exists by protecting it from weather. If a building with graffiti is to be renovated or demolished, try to preserve or record the markings.
Show discernment in how you share the location of the mark. Widely announcing the location may attract excess visitors or unwanted markings. Share the information with organizations who will help record and preserve the historical nature of the finding, including the Historical Graffiti Society at historicgraffitisociety@gmail.com.