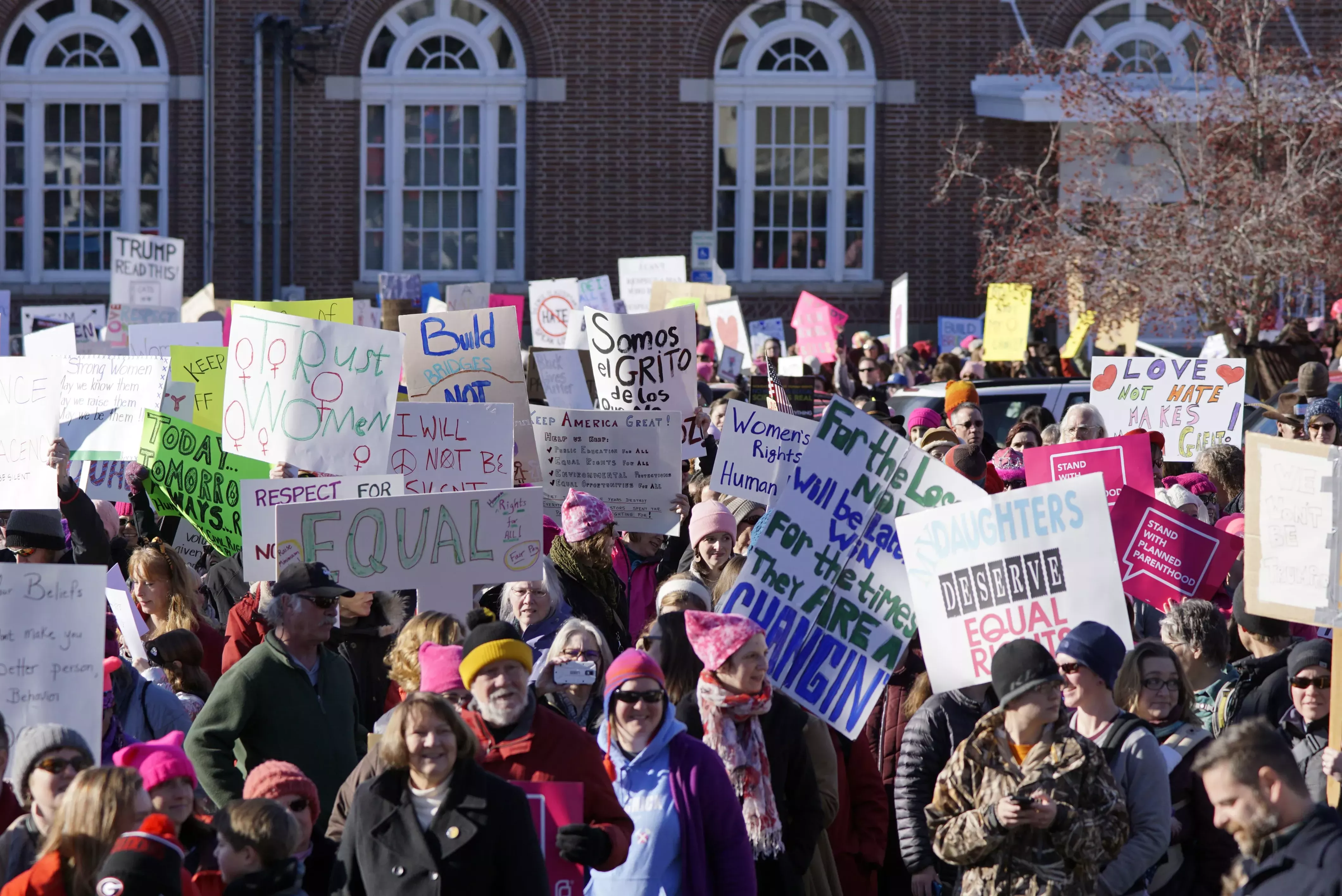 On Jan. 21, 2017, the day after the inauguration of President Donald Trump, women around the world took to the streets by the thousands, marching in solidarity for social justice and human rights.
The largest gathering in Washington, D.C., drew 500,000 to 1 million people. Across the country in Moscow, an estimated 2,000 people marched from downtown to East City Park.
Saturday, groups in Moscow and Grangeville are planning to rekindle the fires of action.
GRANGEVILLE
The People's March in Grangeville is being planned by a group of friends who want to give local people the chance to stand up for equality and inclusion without having to travel to a distant city, said Norma Staaf, who is organizing the event with Carla Wilkins, Michelle Perdue and Larry Nims.
"With the run-up to the election this year there was, of course, a lot of mudslinging, people writing letters to the editor about individuals and people attacking entire groups of people. We want to make a statement that we love and accept anyone and not be afraid to say that on our streets," said Staaf, who is retired from the U.S. Forest Service and writes a weekly column for the Idaho County Free Press.
All ages are welcome. If people want to make signs, materials will be available at 10:30 a.m. Saturday at the fellowship hall at Holy Trinity Episcopal Church in Grangeville. Marchers will gather at 11:30 a.m. at the church to march through downtown Grangeville before returning for a covered-dish lunch with soup, coffee, speakers and social time until 2:30 p.m. People are asked to bring side dishes to share.
Speakers will focus on what people can do better locally when it comes to inclusion and equality. They include Lucii Simpson, a retired law enforcement officer, Nez Perce tribal member and community and environmental activist from Lapwai; Sister Carol Ann Wassmuth, head of the social justice program at Monastery of St. Gertrude; the Rev. Chris Hagenbuch; and Carla Nuxoll Wilkins, the Grangeville outreach coordinator for Lewis-Clark State College.
"The march is not necessarily happening to change anyone's mind but to say this is what we believe in and we're not afraid to show it," Staaf said, adding it's an opportunity for like-minded people to come together and plan for the future.
IF YOU GO
WHAT: The People's March
WHEN: 11:30 a.m. Saturday, Jan. 19
WHERE: Meet at Holy Trinity Episcopal Church, 311 S. Hall St., Grangeville
MOSCOW
The Women's March on the Palouse is an official chapter of the global Women's March organization. Local organizers are asking people who plan to attend to register online so the organization can track the number of participants worldwide. (Find a link to register by clicking here.)
The massive turnout at Moscow's 2017 march surprised many. While a very small, last-minute event was organized last year, the 2019 march has been carefully planned, said Lysa Salsbury, one of its organizers. The global theme is "End Violence Against Women."
"I just feel like I would hate to see the momentum from the 2017 march fizzle out. There were a lot of really positive connections that came from it," Salsbury said, listing the creation of activist groups like Palouse UPstanders and Palouse ProActive and efforts to mobilize voter registration and increase awareness about violence against women. "I've spoken to a lot of friends and community members who really want to gather that unity among women and their allies."
They are marching for the rights of women and all marginalized and oppressed identity groups, she said.
"The women's movement has been criticized for being exclusive and out of touch by gender nonbinary and nongender conforming groups, women of color and trans people. We're making a strong effort to make this march as inclusive as possible for all who identify as women and allies of women," said Salsbury.
This has included a discussion on the Women's March on the Palouse Facebook page about pussyhats, an icon of the 2017 march, which have been called racist by some women of color, because their genitals are more likely to be brown than pink, and offensive to transgender women and gender nonbinary people who don't have typical female genitalia.
Marchers will gather at noon Saturday in the parking lot east of Moscow City Hall and begin marching to East City Park around 12:30. A program at the park's main stage will begin around 1 p.m. It will include a community chorale performance of "I Can't Keep Quiet," an anthem written for the 2017 Washington, D.C., march by the artist Milck. Moscow jazz singer Natalie Greenfield will lead a rendition of "Sisters Are Doin' it For Themselves." Speakers include representatives from the women's centers at the University of Idaho and Washington State University.
Organizers also are collecting short narratives of experiences that people have had relating to the climate for women since the original march, either positive or negative. Narratives can be emailed to lysa_salsbury@hotmail.com.
As of Monday, 600 had expressed interest in attending on the group's Facebook page, Salsbury said. How many will attend is unknown.
"I hope people will be inspired to join the march and march for the women who've fought so hard thus far for the rights we currently have and march for those who still lack those rights," Salsbury said.
IF YOU GO
WHAT: Women's March on the Palouse
WHEN: Noon Saturday, Jan. 19
WHERE: Meet outside Moscow City Hall, 206 E. Third St.