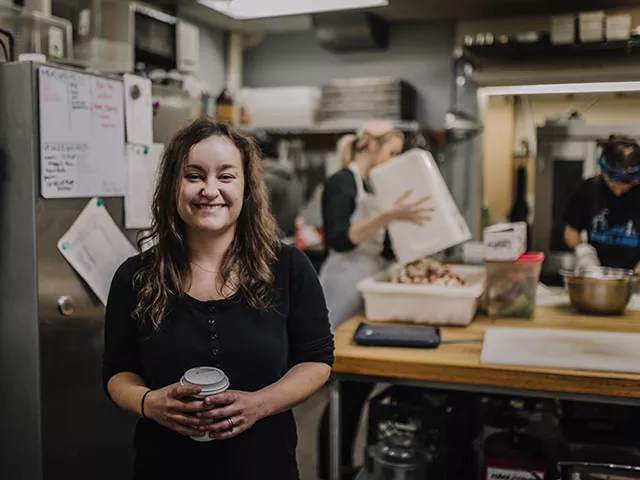 Stephanie Wilkes, 29, is the head chef at Bloom, a breakfast and lunch cafe featuring locally sourced food made from scratch in downtown Moscow.
Mostly self-taught, Wilkes started working in restaurants when she was 14, rising through the ranks from dishwasher to her current position, learning from experienced chefs along the way.
"The great thing about cooking is, if you're willing to work hard and learn from your mistakes, you can learn so many different dishes," she said.
Wilkes took inspiration from old local cookbooks to create a menu for the Feb. 2 progressive dinner "Meet Us at the Museums." She used recipes from the 1920s to '40s, which focused on classic comfort foods like soups, casseroles and affordable cuts of meat.
"My goal with the menu is to show how we can feature those same ingredients, such as potatoes, onions and beans, with some more modern flavors and preparation methods with appealing plating," she said.
We asked Wilkes a few more questions about food from the past and present.
Hometown: Coeur d'Alene
How long at Bloom: About seven years
Most popular dish at Bloom: Our house-made brioche French toast or our biscuits and gravy with sausage and sage.
Personal favorite dish at Bloom: Huevos Rancheros with salsa verde
Most difficult dish you've ever prepared: Sweetbreads! Any kind of offal meat can be difficult to prepare, because they generally require some lengthy prep work beforehand. Additionally, many people are hesitant to try offal or organ meats, so it takes a little bit of extra work to make them look appealing. If done correctly, you have an extremely tender and moist meat with a creamy texture.
Favorite specialized kitchen tool: My chef knife. With a sharp, well-made knife you don't need many other tools and can prep a variety of dishes safely and efficiently.
Food or food trend from history you think deserves a comeback? Mac and cheese
Food or food trend you think society would have been better off without? Food foams and gels
Food trend you think people will get excited about in 2019? I think foods like fermented cabbage, drinks and yogurts will continue to rise in popularity with other healthy foods.