The culmination of two or more years' work by Washington State University Master of Fine Arts graduate candidates will be on display at the Jordan Schnitzer Museum of Art WSU starting March 29, with artist presentations slated for later next week.


The 2022 MFA Thesis Exhibition runs through May 7; the artist talks are set for 3-4 p.m. April 1, during the school's Family Weekend. An opening reception will follow the talks in the museum galleries from 4-6 p.m. All events are free.
The exhibition includes a wide range of art-making approaches from this year's MFA thesis graduate candidates, Sarah Barnett, Jaime Durham, Autumn Hunnicutt, Seo Ryung Park, Siri Stensberg and Meagan Marsh Pine.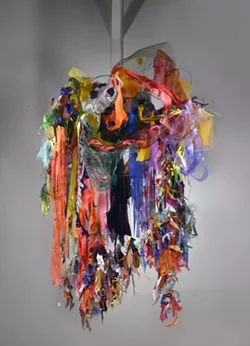 Traveling from many places to join the cohort at WSU, the student-artists engaged in an intense interdisciplinary studio program, according to a WSU news release. They met regularly with faculty members for group and individual critiques, and visiting artists and scholars provided one-on-one insight into their work.
The Jordan Schnitzer Museum of Art WSU is located in the Crimson Cube, on Wilson Road across from Martin Stadium and the CUB, on the WSU Pullman campus.