By Kaylee Brewster for Inland360
The return of the Guardians of the Galaxy means the universe is yet again in danger. Bad news for our heroes. Good news for the audience.
The band is back together with Star-Lord/Peter Quill (Chris Pratt), Gamora (Zoe Saldana), Drax (Dave Bautista), Rocket (Bradley Cooper) and Baby Groot (Vin Diesel). Guarding the galaxy is proving quite the feat this time around as they have to avoid various groups gunning for their lives, saving the galaxy from someone who wants to destroy it in order to hit the reset button to build a better universe, and unexpected family reunions.
One of the ways in which "G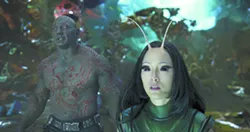 uardians of the Galaxy Vol. 2" exceeds its predecessor is in character development. While "Guardians of the Galaxy" established these characters and their personalities and quirks, its sequel focuses more on building them as a team and developing their individual emotional cores. Yes, these characters are now heroes; but they didn't start out that way, and their bad habits and egos often get in the way. These actions don't affect only their heroics but also cause friction in the group as they try to work together with everyone doing their own thing.
As the film develops the group's inner workings it does the same with individual characters. Each character has experienced loss in some way, or builds up a relational wall, or both. It picks apart the characters, showing the audience who they really are and what really drives their action.
So while there is action and humor - as in the first film - the characters do not get lost in the plot. There are some beautifully tender moments in the film that connects strongly with the audience and will make fans love these characters even more.
Where one scene makes viewers reach for the tissues, another will make them laugh out loud. "Guardians of the Galaxy Vol. 2" also brings in a few fresh faces to add to the fun, such as Mantis (Pom Klementieff), a socially awkward alien who can feel emotions.
The other standout from the first film was the soundtrack, and director James Gunn brings more toe-tapping tunes for som2e space action adventure as well as some slow, soft numbers when called for.
"Guardians of the Galaxy Vol. 2" saves audiences from boring, mediocre sc-fi comic book adventures by providing the look of a space adventure, the bad-turned-good characters of a Western, the humor of a fast-paced comedy and the perfect rock 'n' roll soundtrack for the backdrop. This is a movie that has everything viewers could ever want in a movie and things we didn't know we wanted - like an adorable walking, talking tree.
---
Brewster is a graduate of Lewiston High School and Lewis-Clark State College who is earning her master's degree in film and television studies at the University of Glasgow. She can be reached at kaylee.brewster@hotmail.com.