By DYLAN BROWN of Inland 360
Vinyl is now a few years into a resurgence spurred by cool kids supposedly pursuing superior sound. The only LPs left in formerly dusty boxes at Goodwill are Barry Manilow, Engelbert Humperdinck's Christmas album and 28 copies of Neil Diamond's greatest hits.
I have a confession for a musical hero of mine, Neil Young, in the midst of a crusade for his ultra-high quality pono audio format due out next year. Aside from a direct play-for-play comparison, even the difference between vinyl and MP3 doesn't register on my probably deaf ear — I'm trying Neil, I'm trying hard.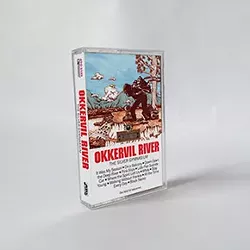 While there may truly be something to be said for the snap, crackle, pop of vinyl, most of the kids wearing fake horn-rimmed glasses stealing their mother's Fleetwood Mac album are just playing chic.
Physically owning 12 inches of polyvinyl chloride has come full circle from being Dad's thing, to passe in a digital age, to the highest sales numbers in 15 years in 2012, according to the International Federation of the Phonographic Industry.
It's the other argument though — sound quality aside — for going to the record store that is feeding my compulsion to tangibly hold music: album art. You can't think of "Dark Side of the Moon" with the prism and thousands a year risk life and limb trying to find a gap in "Abbey Road" traffic — art can be instrumental to an album.
A recent album reminded me of that, but it left me clinging to my generation's medium, not vinyl — I am now old enough to attempt nostalgia, I guess. Yes, I would recommend buying
Okkervil River's
"The Silver Gymnasium"
compact disc, wrapped up tight in that infuriating plastic.
Tucked inside the album is a map of lead singer Will Sheff's quaint little hometown of Meriden, N.H., a hand-drawn guide lovingly created to help navigate you through Sheff's memories of a simpler time growing up in a town of 500. With the map and the lyrics on its opposite side as reference, Okkervil's songs spring to life as Sheff tries his damnedest to objectively recall the hometown he's romanticized despite himself.
"The wish just to go back … when I know I wasn't ever happy. Show me my best memory — it's probably super crappy," Sheff sings on "Pink Slips," a song so self-deprecating that he appears to call himself "a prostitute paid in pink slips."
All of a sudden "The Silver Gymnasium" is one big coming-of-age tale almost anybody can empathize with. Sheff's Cutlass cruiser of time speeds ever onward, but in a way that isn't tired or overwrought, the album's message is basically carpe diem.
And without the map, you'd probably lose it. ——— Brown is a deejay for the University of Idaho student radio station, KUOI 89.3 FM. He can be contacted at dbrown@lmtribunedotcom or (208) 848-2278. Follow him on Twitter @DylanBrown26.