Stories and photos by IRENE EVERETT
for Inland 360
A new handcraft and weaving studio named Heritage Handcraft Center that opened last month in Deary highlights traditional and sustainable arts and crafts.
Heritage Handcraft is operated by Heritage Fellowship, a nondenominational Christian church whose members moved to Deary about three years ago from Waco, Texas. They are a branch of Homestead Heritage based in Waco and also operate the Pie Safe Bakery in Deary and Brush Creek Creamery, a cheese-making business which recently relocated to the bakery.
The studio opened in early August with the intent of reintroducing basic sustainability skills such as weaving, knitting, woodworking and blacksmithing to the community and to young people, said Jan Pipher, its craft coordinator.
The studio's first exhibit is a collection of hardanger lace, on display through Sept. 21, with many pieces created by Delores Collinge of St. Maries and Tina Johansen of Spokane.
Hardanger lace is used to make and decorate traditional Norwegian costumes as well as other items of clothing and household items such as aprons, tablecloths, curtains and bedspreads. The tradition of making these items came to American with Scandinavian emigrants and was handed down to younger generations, said Pipher.
Hardanger lace is handworked on cotton or linen fabric with at least 22 threads per inch, using pearl cotton thread. Clusters of five stitches (kloster stitches) are worked in one direction, then five stitches in the opposite direction until a gridwork of stitches is created. Once the overall pattern is done, fabric is removed between the stitches, creating open "windows" in the work. By combining various stitches and filling in the open areas with decorative stitches, an overall, intricate pattern is created.
Depending on the complexity of the design, one piece can take months or years to complete.
Collinge, who was born and raised in Deary near her grandfather's 1800s homestead, has been doing hardanger embroidery since 1986. Many of her pieces are worked in one or two colors of thread on a traditional white, cream or beige background fabric.
Johansen was a Norwegian exchange student who resided with the Collinge family for a year and now is a designer for an architectural firm in Spokane. She doesn't remember when she began doing hardanger embroidery but knows she started as a young girl. She introduced the art to Collinge, and the two worked together on one of the most impressive pieces in the display, a baptismal dress for Serne Mari Johansen, Johansen's daughter, who was baptized in Meloy, Norway, in 2002.
The Heritage Handcraft building was a woodworking shop owned by Leslie Holstine in the 1950s and '60s. Over the years, it has housed an appliance business, a grocery store and multiple cafes and restaurants.Today the building holds three large, free-standing, traditional weaving looms and numerous handlooms for teaching the craft.
Pipher began weaving in 1980 and describes herself as passionate about the art, calling herself the "oldest weaver around." Besides knowledge about the craft, she has learned about the historical significance of traditional looms. She explained that many home looms were destroyed or discarded as obsolete in America during the Industrial Revolution. Sweden maintained its rich weaving tradition during that time and current weaving loom construction is based on traditional Swedish loom designs.
An antique, hand-carved weaving loom was recently donated to the center. It is etched with the date of March 23,1916, and was made in the Nora Creek community, west of Deary. Although not certain, the carved initials of O.B. next to the date suggest that the loom was made by Oscar Branting of Nora Creek when he would have been about 16 years old, Pipher said.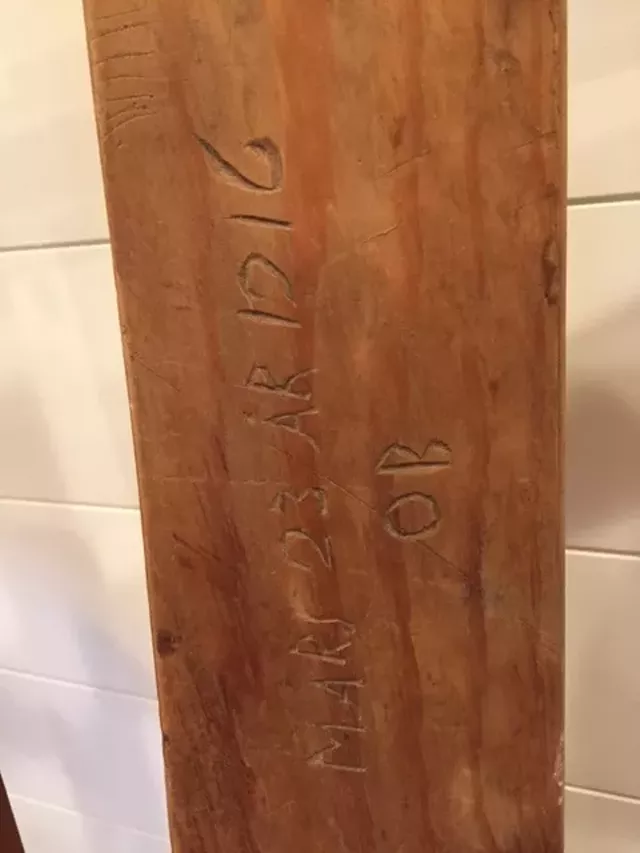 IF YOU GO
WHAT: Hardanger Lace Display.
WHEN: Through Sept. 21.
WHERE: 401 Main St., Deary.
COST: Free.
OF NOTE: The studio is open from 10 a.m. to 3 p.m. Friday and Saturday.