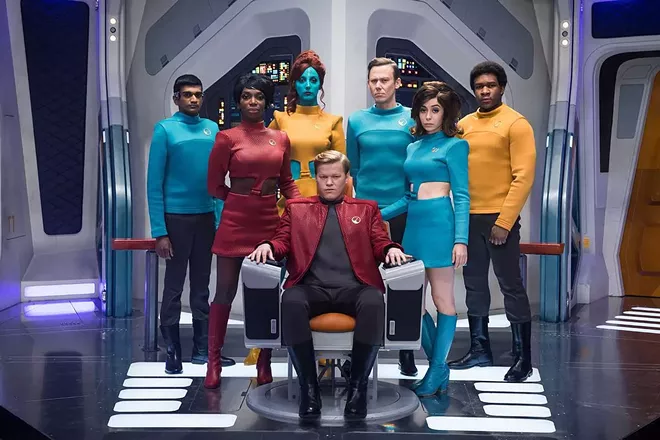 What's new for home viewing on video-on-demand and Netflix, Amazon Prime, and other streaming services starting Jan. 5, 2018.
Top streams for the week
"Black Mirror," dark, disturbing, brilliant the 21st century answer to The Twilight Zone, is back for a fourth season on Netflix, and creator Charlie Booker makes the most of his bigger budget with more visually lavish episodes, opening with an inspired "Star Trek" twist. 6 episodes now streaming on Netflix.
https://youtu.be/5ELQ6u_5YYM
HBO launches 2018 with the entire cinematic Harry Potter saga: all eight films based on the books by J.K. Rowling, from "Harry Potter and the Sorcerer's Stone" (2001, PG) through "Harry Potter and the Deathly Hallows – Part 2" (2011, PG-13), available to binge or watch at your leisure on all HBO streaming platforms.
https://youtu.be/JjTg-XYAIX0
An offer you can't refuse: Francis Ford Coppola's Oscar-winning "The Godfather" (1972, R) and "The Godfather: Part II" (1974, R) and his Oscar-nominated follow-up "The Godfather: Part III" (1990, R), all starring Al Pacino as Michael Corleone, are now streaming on Netflix.
https://youtu.be/dNE2PvbesQU
Pay-Per-View / Video-On-Demand
Emma Stone and Steve Carell play Billie Jean King and Bobby Riggs in "Battle of the Sexes" (2017, PG-13), the story behind the legendary tennis match of the 1970s and a look at a defining public moment in the equal rights movement. Also on DVD and Blu-ray.
https://youtu.be/o5ykcuAS1F4
Also based on a true story are "American Made" (2017, R), with Tom Cruise as a pilot flying weapons and drugs for the CIA in the 1980s, and "Breathe" (2017, PG-13) with Andrew Garfield as Robin Cavendish, the man who revolutionized the way polio patients are treated. Also on DVD and Blu-ray.
Also new: dramedy "Brad's Status" (2017, R) with Ben Stiller and Michael Sheen; indie drama "Lucky" (2017, not rated) featuring Harry Dean Stanton in only his second leading role; religious drama "A Question of Faith" (2017, PG) with Richard T. Jones; thriller "Una" (2016, R) with Rooney Mara.
https://youtu.be/2KLLkj84GAo
Available same day as select theaters nationwide is road movie thriller "The Strange Ones" (2017, R) with Alex Pettyfer.
Netflix
Johnny Depp sails the haunted seas once again in "Pirates of the Caribbean: Dead Men Tell No Tales" (2017, PG-13), the fifth film in the series.
https://youtu.be/Hgeu5rhoxxY
Kate Bosworth and Thomas Jane star in the horror film "Before I Wake" (2016, PG-13), which makes its US debut on Netflix.
Christian Bale is the Dark Knight in "Batman Begins" (2005, PG-13), the first film in Christopher Nolan's superb superhero trilogy, but for nostalgia you can rewind back to Tim Burton's "Batman" (1989, PG-13) and "Batman Returns" (1992, PG-13) with Michael Keaton.
Mel Gibson and Danny Glover play good cop-crazy cop (you know which is which) in the buddy cop action hit "Lethal Weapon" (1987, R) and the three sequels.
Foreign affairs: "Age of Shadows" (South Korea, 2016, not rated, with subtitles) is a spy thriller set during the Japanese occupation of Korea.
Classics: Audrey Hepburn is Holly Golightly in "Breakfast at Tiffany's" (1961), which won two Oscars for composer Henry Mancini.
Kid stuff: the animated "Monsters vs. Aliens" (2009, PG) is pretty self-explanatory and Gene Wilder invites you into a world of pure imagination in the original "Willy Wonka & the Chocolate Factory" (1971, G).
Shut up and dance: "We Speak Dance" (2018) is a 5-episode series that travels the globe exploring the way move to music. On the fictional side of things is the Australian musical comedy "Strictly Ballroom" (1992, PG), the cheerleader competition comedy "Bring It On" (2000, PG-13), and "Rent" (2005, PG-13), the big screen version of the hit Broadway musical.
Two high school rebels hit the road in "The End of the F***ing World: Season 1," a dark comedy of teen confusion from Great Britain, based on a graphic novel. 8 episodes on Netflix.
https://youtu.be/vbiiik_T3Bo
Jerry Seinfeld launches the tenth season of his interview series "Comedians in Cars Getting Coffee" on Netflix.
Stand-up: "Dave Chappelle: Equanimity & The Bird Revelation" offers two complete stand-up comedy performances and "Chonda Pierce: Enough" presents comedy from inspirational faith-based perspective.
More streaming TV: the funny and touching romantic comedy "Lovesick: Season 3" from Great Britain; animated supernatural thriller "DEVILMAN crybaby: Season 1" from Japan; homegrown "Rotten," a non-fiction series on food production in America.
More movies: Owen Wilson is transported in Woody Allen's "Midnight in Paris" (2011, PG-13); Kirsten Dunst is "Marie Antoinette" (2006, PG-13) in Sofia Coppola's historical drama; George Clooney, Ewan McGregor, and Jeff Bridges are "The Men Who Stare at Goats" (2009, R); Peter Jackson directs "King Kong" (2005, PG-13), the second remake of the giant ape classic; "Training Day" (2001, R) earned Denzel Washington his second Academy Award; "The Truman Show" (1998, PG), starring Jim Carrey as an unwitting hero, is as timely as ever in its satire of "reality TV"; it's snobs vs. slobs in the hit comedy "Caddyshack" (1980, R) with Chevy Chase and Bill Murray.
Amazon Prime Video
Revisit the final adventures of Peter Capaldi in "Doctor Who: Season 10" (2017) before the new Doctor takes charge of the TARDIS.
https://youtu.be/s2xOQK_BLIg
"The 2018 Rose Parade Hosted by Cord & Tish" features Will Farrell and Molly Shannon goofing it up as your hosts and commentators.
Dominic Cooper plays "The Devil's Double" (2011, R) as an Iranian soldier coerced into portraying the decoy for Saddam Hussein's sadistic son.
Amazon Prime / Hulu
Robert Redford gives a nearly wordless performance in the survival drama "All is Lost" (2013, PG-13) (Amazon Prime and Hulu).
It's hard out there for a pimp in "Hustle & Flow" (2005, R) with Terrence Howard and Taraji P. Henson (Amazon Prime and Hulu) and love means never having to say you're sorry in "Love Story" (1970, PG) with Ali McGraw and Ryan O'Neal (Amazon Prime and Hulu).
Also new:
David Fincher's "Zodiac" (2007, R) with Jake Gyllenhaal and Robert Downey Jr. (Amazon Prime and Hulu); the sprawling "Babel" (2006, R) stars Brad Pitt and Cate Blanchett (Amazon Prime and Hulu); Philip Seymour Hoffman won an Oscar starring in "Capote" (2005, R) (Amazon Prime and Hulu); "Freedom Writers" (2007, PG-13) with Hilary Swank as an inspirational teacher of at-risk high school students (Amazon Prime and Hulu); "Six Degrees of Separation" (1993, R) with Will Smith (Amazon Prime and Hulu); and drama "Street Smart" (1987, R) with Christopher Reeve and Morgan Freeman (Amazon Prime and Hulu).
Hulu
Paul Thomas Anderson wrote "Punch Drunk Love" (2002, R) for Adam Sandler and directed him to one of his best performances.
Tom Hanks gets top billing in "A League of Their Own" (1992, PG) but Geena Davis is the real star of Penny Marshall's film about the real life All-American Girls Baseball League.
Kid stuff: Hayley Mills plays twins determined to reunite divorced parents in the original Disney comedy "The Parent Trap" (1961, G) and young Lindsay Lohan takes over in the 1998 remake "The Parent Trap" (PG).
Also new: "The Future" (2011, R), Miranda July's offbeat drama narrated by a cat; Leonardo DiCaprio and Kate Winslet star in "Revolutionary Road" (2008, R) with Oscar-nominated Michael Shannon; Arnold Schwarzenegger in "Total Recall" (1990, R), a sci-fi thriller directed by Paul Verhoeven; and "Spaceballs" (1987, PG), Mel Brooks' spoof of the "Star Wars" franchise.
https://youtu.be/dPv7kzQs59A
HBO Now
Guy Ritchie adds monsters to the great British myth in "King Arthur: Legend of the Sword" (2017, PG-13) starring Charlie Hunnam. A little closer to home is the western "In a Valley of Violence" (2016) with Ethan Hawke and John Travolta.
Among the older films now available on HBO streaming services are "The Informant!" (2009, R) with Matt Damon, the modern romantic comedy "(500) Days of Summer" (2009, PG-13) with Joseph Gordon-Levitt and Zooey Deschanel, and the "Back to the Future" trilogy (1985-1990) with Michael J. Fox.
Kid stuff: for the younger crowd are the animated features "How to Train Your Dragon" (2010, PG) and "Shrek Forever After" (2010, PG) and the partly-animated "Cats & Dogs: Revenge of Kitty Galore" (2010, PG).
Arriving Saturday night is the young adult romantic drama "Everything, Everything" (2017, PG-13).
Showtime Anytime
Michael Fassbender and Alicia Vikander star in the literary tearjerker "The Light Between Oceans" (2016, PG-13) and "Alone in Berlin" (2017, R) stars Brendan Gleeson and Emma Thompson as Germans defying Hitler in 1940 Berlin.
Also new: Terrence Howard stars in "Pride" (2007, PG) based on the true story of an urban swim team in 1970s Philadelphia.
Stand-up: "Unsportsmanlike Comedy with Rob Gronkowski."
FilmStruck / Criterion Channel
FilmStruck's director of the week is Frank Borzage and the collection includes the gloriously romantic "History is Made at Night" (1937) with Jean Arthur and Charles Boyer and "Strange Cargo" (1940) with Clark Gable and Joan Crawford.
If you've a taste for crime cinema, queue up the French neo-noir "Serie Noire" (France, 1979, not rated, with subtitles) or Fernando Di Leo's Milieu Trilogy, three mob movies from Italy.
New to the Criterion Channel are Billy Wilder's "The Apartment" (1960) with Jack Lemmon and Shirley MacLaine, Otto Preminger's classic courtroom drama "Anatomy of a Murder" (1951) with James Stewart, and the Coen Bros.'s Oscar-winning thriller "No Country for Old Men" (2007, R).
New on disc this week:
"Battle of the Sexes," "American Made," "Breathe," "Brad's Status," "Lucky"
Now available at Redbox:
"Despicable Me 3," "American Made," "The Mountain Between Us," "Brad's Status"
Sean Axmaker is a Seattle film critic and writer. His reviews of streaming movies and TV can be found at http://streamondemandathome.co