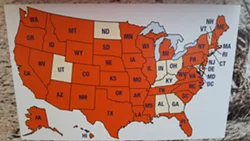 MOSCOW -- There's one week left to see "Water/Ways," the traveling Smithsonian Institution exhibit on display in Moscow City Hall. The exhibit spans three floors and features interactive panels exploring humanity's connection to water, the way it's being used and the future. Here's a few numbers to ponder from the information-packed display.
It takes this much water to make: 449 gallons = one pound of rice 1,056 gallons = one gallon of milk 1,321 gallons = one ream of paper 1,799 gallons = one pound of beef 2,000 gallons = one pair of jeans 3,170 gallons = one pound of chocolate
70 percent of Idaho's hydroelectric power comes from the dam complex in Hells Canyon
38 percent of freshwater withdrawals in the U.S. in 2010 were for irrigation
50 percent of irrigation water is reusable
40 states are expected to experience water shortages by 2024
If You Go
What: "Water/Ways" When: 8 a.m. to 5 p.m. weekdays through Jan. 21 Where: Moscow City Hall, 206 E. Third St. Cost: Free
Of Note: -The exhibit is closed Monday, Jan. 16 for Idaho Human Rights Day
-Lucii Simpson will present the final talk "Water and the Nez Perce, Yesterday and Today," at 6 p.m. Jan. 19 at city hall council chambers. Simpson is a board member of Nimiipuu Protecting the Environment.