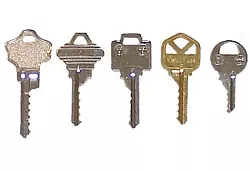 The Nez Perce Historical Society is collecting old keys to raise funds to preserve Lewiston's historic downtown campus.
The scrap value from old keys will be securely recycled and used to restore the Nez Perce County Historical Society campus at Third and Capital Streets. The fundraiser will run through mid-November 2013 and is being done in conjunction with Lewis Clark Recyclers and Appearances Marketing & Promotions.
Old unused keys can be dropped of at participating locations including Taco Time in Lewiston and Clarkston; Arby's in Lewiston and Clarkston; Southway Pizzeria; Ziggy's; Cannon's Building Supply; Beautiful Downtown Lewiston office and US Bank Downtown.
More information is available by contacting the Nez Perce Historical Society at (208) 743-2535 or visiting www.npchistsoc.org.