One of Jana Vrtělová Holbert's earliest memories of a marionette is of one that her grandfather hand carved before she was born. The doll is meant to resemble a vodnik, a mythical water goblin in Czech culture. The head of a bearded man, with a large nose and subtle grin, sits atop a pudgy belly.
"And it had boobs too," Holbert said. "It used to terrify me. Every time you walked by it you would have to take a second because it would scare you."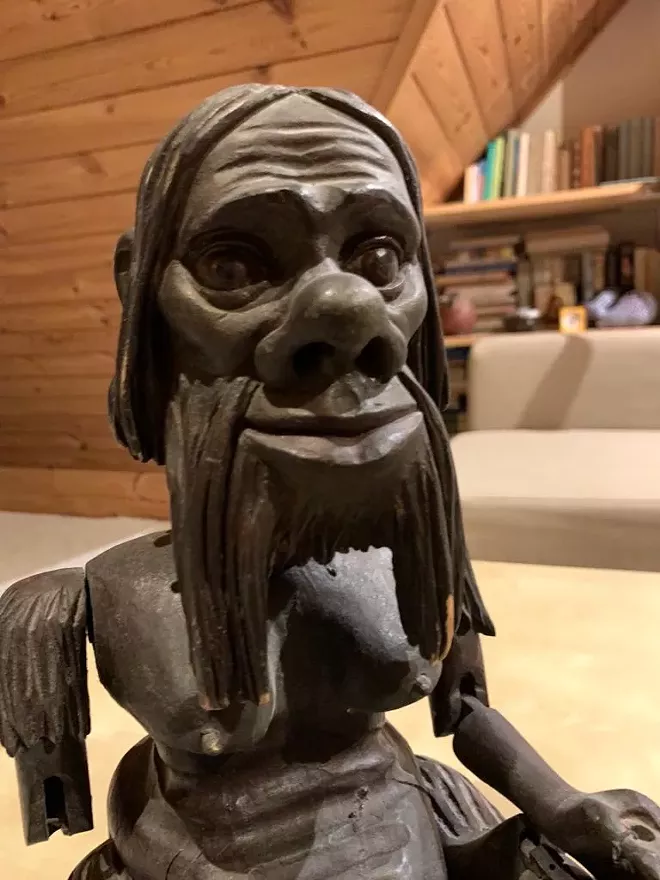 Holbert grew up in a small town in the Czech Republic, where marionettes and puppetry are common and woven into Czech culture. Holbert's grandfather heavily influenced her decision to start carving marionettes. She had always admired his work, and found marionette dolls to be whimsical and fascinating.
Though her grandfather died before she was born, she grew up with his marionettes on display around her family's home.
"My grandpa was an amazing woodcarver," she said. "It was a hobby for him as well; he was an engineer by profession. He made all of these beautiful marionettes and puppets, and he was the director of a local theater back home."
In hopes of continuing his legacy, Holbert carved her first marionette in 2013. But she was too busy with school, getting married, buying houses and life in general to devote much time to the craft.
When she was about 17, she participated in an exchange student program at Sandpoint High School in northern Idaho. She moved to England after graduating to complete her undergraduate degree in marine biology and, afterward, moved to Canada to complete her master's degree in biology.
While she was in Canada, she decided to pay her Sandpoint host family a visit, and unexpectedly ran into a student she knew from high school, who later became her husband.
"I finished my school, and basically we said whoever finished school first would move to where the other person was; so I ended up in Moscow," she said.
Holbert works as a research technician for the University of Idaho Department of Fish and Wildlife Sciences. She decided to take her grandfather's craft more seriously toward the start of the COVID-19 pandemic. Using the tools and methods her grandfather used, she began creating puppets of her own. In the spirit of trying to create the least amount of waste possible, she began making earrings out of wood scraps leftover from the puppets.
"During 2020, it was just me at home with my toddler," she said. "And I said, 'You know what, I'm gonna give this a shot.' It's my 'me time;' it relaxes me, and I wanted to make sure I had time to do this for myself."
She named her business Earrings by VrteLoutky, which is a combination of her and her grandfather's surname, Vrtělová, and the word "loutky" which means "puppet" in Czech.
"I wanted the name to reflect the family legacy," she said.
To begin a puppet, Holbert starts by drawing the design on engineering paper to ensure the proportions are correct. Then she makes a rough cut of each body part. She hand carves the rest of the details, rarely using power tools. After attaching all the joints, she hand paints the puppet, finishing it off by attaching the strings and the controller, which is called a cross brace. She estimates that the smaller puppets take her a minimum of 20 hours to complete. Her largest one took more than 100 hours.
The earrings she creates are inspired by the marionettes. Some have faces and expressions, while others exude the whimsical, over-exaggerated traits of puppets. The earrings can take anywhere from 30 minutes to two hours to create.
Holbert first presented her work at Moscow Artwalk last June. That's where Ellen Vieth, owner of the Little Pink House Gallery in Genesee, discovered her work and decided to showcase it at a late-summer show in her gallery.
"I thought it was some of the most interesting work there," Vieth said. "I liked the historical narrative behind it, with her grandfather, and I felt like the quality of the work was very good and original. Using the idea of marionettes and the bodies, and streamlining them into more contemporary art, I think is really interesting. I just found her to be really charming and intelligent, and that's what I look for in people for the gallery."
Her marionettes were recently on display at BookPeople of Moscow, where her earrings are available for purchase.
Holbert dreams of creating a children's show with her marionettes in the future.
"Maybe next year for artwalk I could do a little puppet play; I would love to do that," she said. "I think that's my biggest dream, to get into puppet theatre."
Holbert's jewelry also can be purchased at her online Etsy shop, Earrings by VrteLoutky. She displays her work on her Instagram page, @vrteloutky.