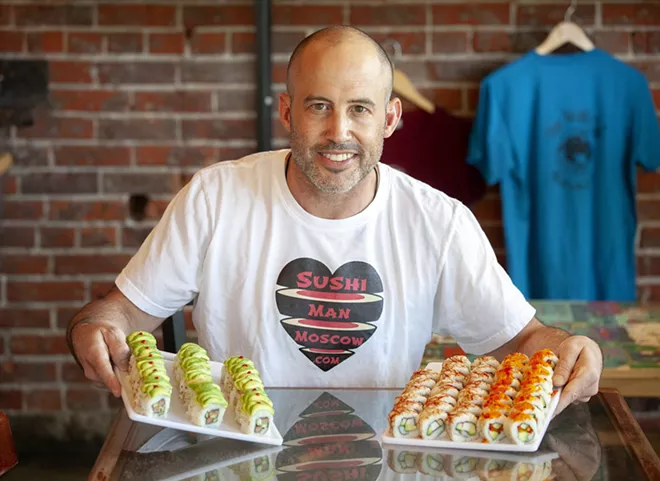 Fighting hunger, taste bud boredom and sushi-phobia where it exists, SushiMan has made his culinary debut in Moscow.
SushiMan, who also answers to the name Jonathan Rau, started appearing in kitchens and catered events in Moscow last winter. He offers traditional sushi rolls on Wednesdays at One World Cafe and hand rolls at the Farmers Market on Saturdays. He will also be at Rendezvous in the Park, July 18-20.
For Rau, SushiMan isn't just the name of his business.
"It's a proclamation of what I aspire to be," he explained.
That's because for Rau, the sushi isn't just about making a food he likes, which he does, or turning an interest into a business, which he is. He came to sushi out of a decision to master a skill, as a means of backwards engineering his life into something more simple.
After growing up in Chicago, Rau went to Los Angeles to act and work in the film industry. It's the route his uncle, actor John Travolta had gone, but for Rau, the work left him unsatisfied. After he met his wife, Kelly Eviston-Quinnett, actress and theater professor at the University of Idaho, the two settled in Moscow where Rau handled travel and logistics for his uncle, Travolta.
Three years ago, Rau was ready for a change.
"I wanted to focus on one thing and do that one thing really well," Rau said.
If he could master a skill or trade, he wondered if that might open up a door to something new -- something less complicated and more satisfying.
"When you start to master something, there's a simplicity there," Rau said.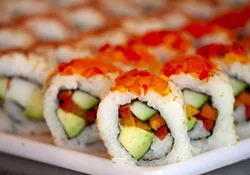 Rau described the idea as "old school." He recalled his grandfather on his mother's side who ran Travolta Tire Exchange or his grandfather on his father's side who owned a grocery store. For them, working in a trade had provided both happiness and enough to get by.
Sushi had long been an interest of Rau's. It's his favorite food, he made it at home and it was an ongoing fascination. He wondered what might happen if he mastered sushi. He knew if that was going to happen, he would need to be professionally trained.
With no restaurant experience, the idea of going to sushi school was intimidating. He had to accept that he would be uncomfortable. So in 2018, he went to L.A. to study under Chef Andy Matsuda in a live-in, professional sushi course.
The month-long program was intense. Students lived in small rooms off the kitchen and were up early, learning and working the whole day. During that time Rau learned dozens of skills, including how to prepare the sushi rice, hand sharpen his knives and roll sushi.
From the moment he returned home, he was anxious to get back to complete the second month of training. All he could think about was making sushi, so that's what he started doing.
He began by making sushi for family and friends. As he continued to get good feedback, the circle of those who were enjoying his sushi grew. Before long, he was being asked to cater events and started selling sushi at One World Cafe. Then in the spring he joined the Moscow Farmers Market, which he described as a great platform to trial and error a business.
Rau hasn't gone it alone. He's had good support from the community, from people who are buying the sushi to those who are selling it, like One World Cafe. Sure, he encounters a few skeptics, but overall people have been open and interested in what he -- as SushiMan -- has to offer.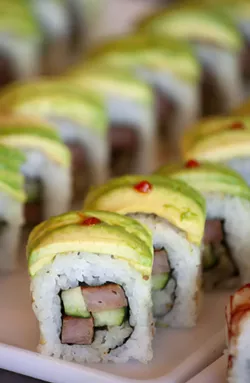 Sushi 101: Getting the basics
On what makes good sushi good
Good sushi depends on fresh ingredients and good rice. Traditionally chefs will train for five years or more on cooking rice properly, Rau said. The consistency and temperature of the rice are critical to a successful sushi, which means it must be both cooked and cooled properly. The sushi-zu, or rice vinegar seasoning, must have the right ratio of vinegar, sugar and salt, in order to taste good.
On sushi-phobia
Most sushi-phobia is based on people's fear of eating raw fish. "But sushi doesn't have to have anything to do with fish," Rau said, citing a list of other proteins he'll use, including eggs, spam and bacon. The seaweed wrap is another offender for some and can easily be replaced with a soy wrap. Sushi, Rau said, is more about the rice. And most people don't hate rice.
The hand roll
Hand rolls aren't what people typically picture when they think "sushi." Rau compares them to a little burrito, a wrapped Japanese street food that's held in the hand. Though it's a basic form of sushi and the easiest way to make it, it's not common in the area. This is the type of sushi Rau makes for the Farmers Market. He offers five variations, both traditional and non-traditional. "We focus on taste, freshness -- it's made within a minute of ordering. It's a simple introduction to sushi," Rau said.
Sushi essentials
If you're making sushi at home, you need to master three things, Rau said: making rice, rolling technique and maintaining sharp knives. If your rice is not seasoned well or prepared and cooled properly, you're going to have a hard time working with it. And when it comes to rolling sushi, "it's a numbers game," Rau said. It's not something you master by doing a few times a year; Rau got good at it by doing it hours every day using specific techniques. And a sushi maker needs a knife with "ridiculous sharpness." Knife sharpening skills were among the first skills Rau had to master and was regularly tested.