As dependable as the seasons, Peeps are making their annual appearance on Inland 360's cover.
Our Peeps Diorama Contest is in its sixth year, and the creative entries keep rolling in. Thanks to all the kids and adults who took the time to imagine and create a scene using the crusty marshmallow treats.
If you missed out on this year's contest, stock up on Peeps at after-holiday sales next week. Past winners swear that well-aged Peeps work the best. The contest will be back again in 2020.
-- Inland 360 staff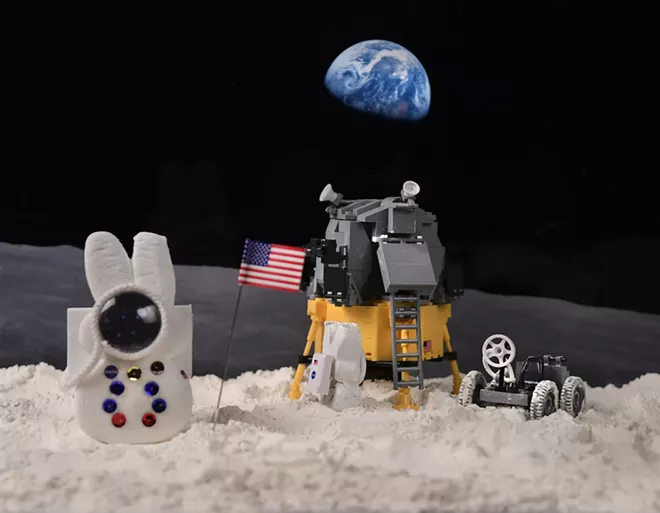 2019 winner, adult
Le Ann D. Wilson's diorama celebrating the 50th anniversary of the Apollo 11 lunar landing is the winner in the adult category for this year's contest.
Wilson, of Orofino, was a small child when the landing took place and remembers watching the event on TV with her grandfather. She recalls wishing she could watch cartoons instead.
In her diorama, she used flour to create the pale surface of the lunar landscape. She used a Tic Tac box to make the Peep astronaut's backpack and cut apart a large googly eye to fashion a realistic visor. She made a copy of the photo of the actual visor as seen by TV viewers and cut out the reflection to paste into her Peep's visor. All these little details added up to a first-time win for Wilson, an information assistant for the Forest Service's Nez Perce-Clearwater National Forest office.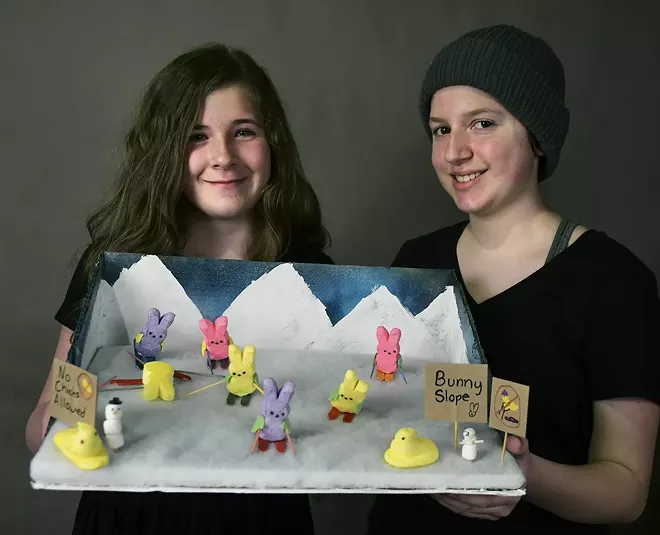 2019 winner, age 12 and younger
First place prize in the youth category went to Josie Ausman, age 12, and Kristen Brown, age 11. The two worked together to create "Bunny Hill," a ski scene with "no chicks" allowed. Kristen is the daughter of Jodi and Cory Brown of Lewiston. Josie is the daughter of Josh Ausman of Lewiston. They quickly devoured their creation after winning.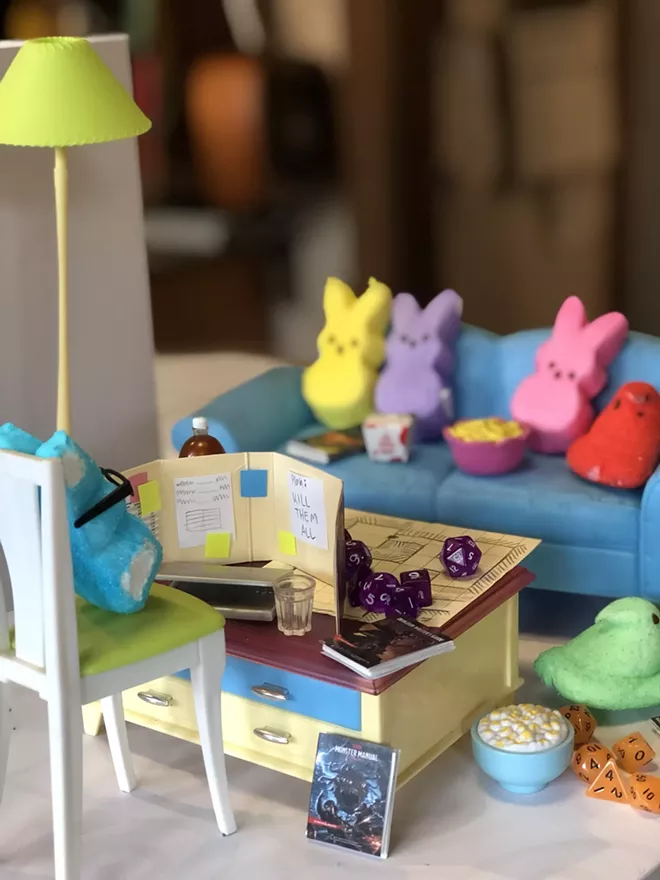 Peeples' Choice Award winner
Readers choose the Peeples' Choice Award winner by voting online at inland360.com. The 2019 honor went to "D&D with the Peeps" by Amy Winn, Madison Winn and Lars Roubidoux, all of Lewiston.
Honorable Mentions
Inland 360 staff would also like to recognize a couple other stand-out entries.
Pamela Smith of Clarkston created "Peep's Travels," inspired by the classic tale "Gulliver's Travels."
"Community Peeps Giving"
This diorama highlights the Lewis-Clark State College Warrior Pantry and the LC Learning Garden. The diorama was created by Julia Frey, an AmeriCorps VISTA member and pantry coordinator, to represent the members of the community and college who have given their time and talents to these projects forming new connections and friendships.